Crane numbers 'could rise by 50%' in next 50 years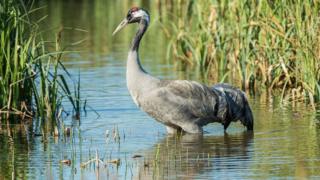 Common cranes which were reintroduced to England less than 40 years ago after a 400-year absence are now here to stay, research has found.
There could be a 50% increase in breeding pairs of cranes in the UK within 50 years, according to a study.
Efforts to populate parts of the country with the UK's tallest bird began in 2010.
There are currently 178 pairs, but a study predicts a 50% rise in the next 50 years to 275 pairs.
Research into the crane population has been carried out by the University of Exeter, the RSPB and the Wildfowl and Wetlands Trust (WWT).
Cranes were lost from the UK as a breeding bird in the 16th Century as a result of hunting and the drainage of large areas of wetlands, but some returned to the east of England in 1979.
Conservationists supported the small population but they bred slowly and their numbers remained low over the next two decades, leaving the population at risk of disappearing again if hit by problems such as disease.
A new population model, published in a paper in the journal Animal Conservation, found an important part of the growth in numbers until 2010 was new arrivals from continental Europe.
Conservationists then began to import eggs and release fledgling cranes in the west of England as part of the Great Crane Project.
Between 2010 and 2014 the project hand-reared Eurasian crane chicks from Germany at Slimbridge in Gloucestershire and released them 60 miles (97km) away on the Somerset Moors and Levels.
You may also be interested in:
By 2014 the project had boosted the UK population with 90 new birds.
As a result, the population model predicts a 50% increase in the number of breeding cranes, from the current 178 pairs to 275 in 50 years' time.
Dr Geoff Hilton, from the WWT, said: "We can greatly accelerate the recovery of some of our most special wildlife, allowing more people to enjoy them more quickly."