Millions to face hosepipe ban in north-west England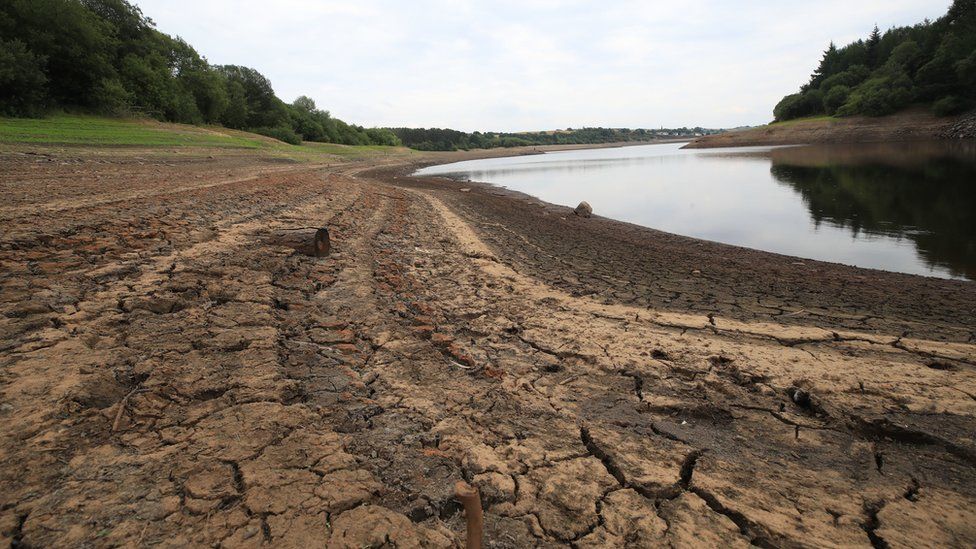 Millions of people will be affected by the first hosepipe ban of the summer in England.
United Utilities (UU) said a temporary ban affecting seven million people in the north-west of England from 5 August would "safeguard essential supplies".
It said reservoir levels were already low and hot weather was forecast for the rest of July.
Other water companies across England said they had adequate supplies and had no plans to impose similar bans.
Carlisle and north Eden Valley are exempt from the ban as they receive water from local sources - not the network which serves the rest of the region - and have not been as badly affected by the lack of rainfall, the firm said.
Eastern parts of Cheshire are affected, but Chester and West Cheshire are not as they are covered by Severn Trent Water.
People on the Isles of Scilly have also been asked to stop using hosepipes and sprinklers, and to keep "water usage to an absolute minimum".
The Council of the Isles of Scilly said St Mary's and Bryher's groundwater supply was "critically low", and without it the authority would not be able to meet the islands' demand for water.
Martin Padley, from UU, said the "temporary use ban" came during what was believed to be the longest heatwave since 1976.
He said: "Despite some recent rainfall, reservoir levels are still lower than we would expect at this time of year and, with forecasters predicting a return to hot dry weather for the rest of July, we will need to impose some temporary restrictions on customers.
"Unless we get a period of sustained rainfall before 5 August these restrictions will help us safeguard essential water supplies for longer."
The firm said the ban was alongside its other efforts to maintain essential supplies, including maximising water abstraction from ground water supplies; moving water around its regional integrated network of pipes; and running a campaign to encourage customers to use water wisely.
UU added it had the power to impose fines of up to £1,000 for people who flouted the new restriction.
Allotment owners have criticised the ban, claiming they should be excluded.
UU has told the BBC allotment owners growing produce for their own consumption are banned from using hosepipes while those who grow fruit and vegetables commercially are exempt.
Andy Percival, of the Blackpool Federation of Allotments Associations, said the restrictions would have a "massive impact... putting all their hard work at risk".
He said: "A lot of produce will fail or be destroyed… and there is no way of saving crops.
"A lot of retired people, young families or those on low incomes use allotments to supplement their incomes and eat fresh fruit and veg."
Aimie Ellis, who has an allotment in Lawson Road, Blackpool added: "It would be a shame to see all the year's hard work ruined on account of this ban."
Janette Woodward, from Middlewich, Cheshire, said: "I don't think it is necessary for it.
"If we all look after water properly, don't waste it, put a bowl underneath your tap if you have got a [dripping] tap and use all that."
Although water companies in other regions of England urged customers to continue to be "water wise" in the hot weather, they said they had no plans to impose similar bans.
Jim Ratcliffe, drought manager for the Environment Agency, said the ban was "a responsible measure" that will help "balance the need of people through public water supplies, whilst protecting the sensitive natural environment".
But people in the region questioned the decision on social media, asking why it was necessary and highlighting the water company's profits.
Shaun Austin tweeted to the company that the ban "will reduce water usage by 5-10%" but "fixing leaks will reduce water usage by over 20%".
@unitedutilities hosepipe ban will reduce water usage by 5-10%.

Fixing leaks will reduce water usage by over 20%.

Only one of these will punish customers while protecting @unitedutilities profits.

Guess which one is being introduced?#hosepipeban

— Shaun Austin (@ShaunRAustin) July 17, 2018
In the news today #hosepipeban. How does this work? I pay for a service,you can't provide that service I don't pay? Profit margins of water companies are huge. Better investment n less profits needed rather asking customers to pay for something they aren't receiving,maybe.

— cantsleepwontsleep (@Kissack06) July 17, 2018
Bosses of England's nine privatised water companies banked £58m in pay and benefits over the past five years, according to research by the GMB union published in June.
Privatised water firms in England typically lose between 20% and 22% of supply due to leakage, according to figures from Ofwat, the water industry regulator.
Professor David Hall, from the University of Greenwich and an expert on the water industry, said privatised water firms had an incentive not to fix too many leaks as the cost of work would bite into profits and become uneconomic.
"They can't recoup the cost of making reductions in leakage levels except by reducing profits, that's not what they want to do," he said.
"If the leakage levels were not so high, the daily volume of water delivered would be higher, therefore we would reach the point of hosepipe bans much later.
"Any restriction on water use is a restriction on people's quality of life."
It last imposed a ban in 2010 and the current ban will be the third in the company's 23-year history.
Last year, the water regulator handed the company an £8m "underperformance" penalty.
Temporary use bans - dos and don'ts
Hosepipes or sprinklers for watering private gardens and washing private cars are banned
Watering private gardens with a watering can and washing vehicles using a bucket and sponge, which uses a fraction of the amount of water a hosepipe or sprinkler uses, are permitted
According to UU, a hosepipe uses 540 litres an hour, as much as an average family-of-four would use in one day, while a sprinkler left running overnight uses as much water as a family-of-four would use in one week
The ban can reduce water usage by 5-10%, according to research by United Kingdom Water Industry Research, which would amount to more than 100 million litres per day in the North West
Unlike many other areas of the UK, the North West's water supply relies heavily on open water sources (reservoirs), rather than large reserves of ground water from boreholes. And it has experienced some the country's most prolonged dry periods this year.
Dr Neil Macdonald, an expert in water management from the University of Liverpool, said much higher temperatures and "half the region's normal rainfall in the past two months" had resulted in high demand and led to a considerable depletion in resources.
"You just have to look around to see everyone using sprinklers", he said.
How much water is UU losing from leakage?
In 2016-17, United Utilities was one of five companies in England and Wales losing more water than the national average of 121 litres per property per day from leakage.
It is losing about 25% through leakage but has made an improvement on the previous year, with leaks down 2.8%.
United Utilities lost 439.2 mega litres (439.2 million litres) per day. Per property that works out at 133.4 litres every day.
That's more than one-and-a-half bath tubs (a standard bath tub is 80 litres) for every property, every day, lost in the United Utilities area.
As of 8 July 2018 United Utilities reservoirs were about two-thirds full (67.1%), down from 84.1% last year.
The average through the year is about 81.7% full.
When are you allowed to use a hosepipe?
There are a range of exemptions to the ban, including for:
Blue Badge holders and customers on the company's Priority Services Register
Health and safety reasons and medical treatment
Watering grass on some parts of sports recreation grounds
Filling or maintaining a domestic fish-pond - or an ornamental fountain feeding such a fish-pond
Related Internet Links
The BBC is not responsible for the content of external sites.