Another earthquake in 'Surrey swarm' near Newdigate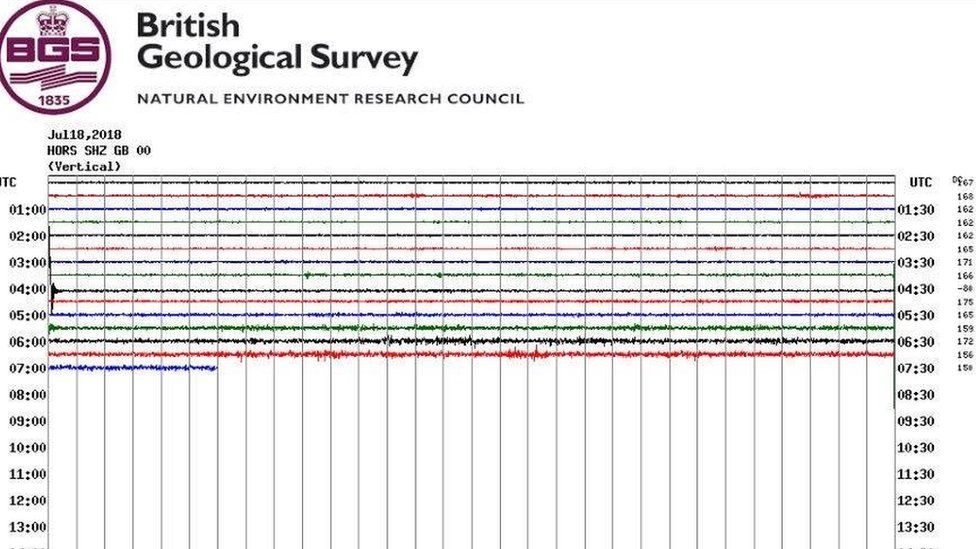 Another earthquake has been confirmed in Surrey - the latest in a series of tremors to be felt since April.
The 1.7 magnitude quake struck at about 05:00 BST just north of Russ Hill near Newdigate at a depth of 1km, the British Geological Survey (BGS) said.
It was picked up by two new seismic stations built last week to record the earth's movements in Surrey after the recent spate of tremors.
The quake was like "a weak thud" lasting a few seconds, the BGS said.
It is thought to be ninth tremor in the earthquake "swarm".
SEISMIC ALERT: NEWDIGATE, SURREY 18 JULY 2018 03:59 UTC 1.7 ML

A number of reports have been received by residents in the local area. One described " The noise was a weak thud but the house shook for a second or two."

— BGS (@BritGeoSurvey) July 18, 2018
Dr Stephen Hicks, from Southampton University, tweeted: "Gotcha - captured at last! Another small felt earthquake in Surrey this morning recorded on our two new seismic monitoring stations just a few km away."
He said he also recorded the tremor using equipment in his living room, 20 miles away.
Dr Hicks told BBC Surrey the magnitude of the latest tremor was "at the lower end of the sequence that we've had so far".
"It shows this swam of earthquakes is continuing and will be closely monitored now we have the new stations.
"I don't think we're going to see any large earthquakes in this region, but they might continue to be felt as the sequence continues," he said.
.~1 km depth is fascinatingly shallow if you compare to most UK earthquakes which have depths >5 km in the crust. To me, 1 km depth suggests that today's event occurred in the softer sedimentary strata, rather than in the underlying crystalline "basement" rock.

— Stephen Hicks (@seismo_steve) July 18, 2018
Surrey's earthquake swarm
Three tremors were felt on 1 April. The first had a magnitude of 2.7, a second within minutes came in at 1.8 and the third, an hour later, measured 1.7
The fourth quake on 28 April measured 1.5
The fifth on 27 June measured 2.6
A sixth tremor on 29 June registered 2.4
The biggest quake on 5 July measured 3.0
The 1.7 tremor near Russ Hill was described as a "weak thud"
Related Internet Links
The BBC is not responsible for the content of external sites.