How the World Cup boosted 'Englishness'
By Prof John Denham
University of Winchester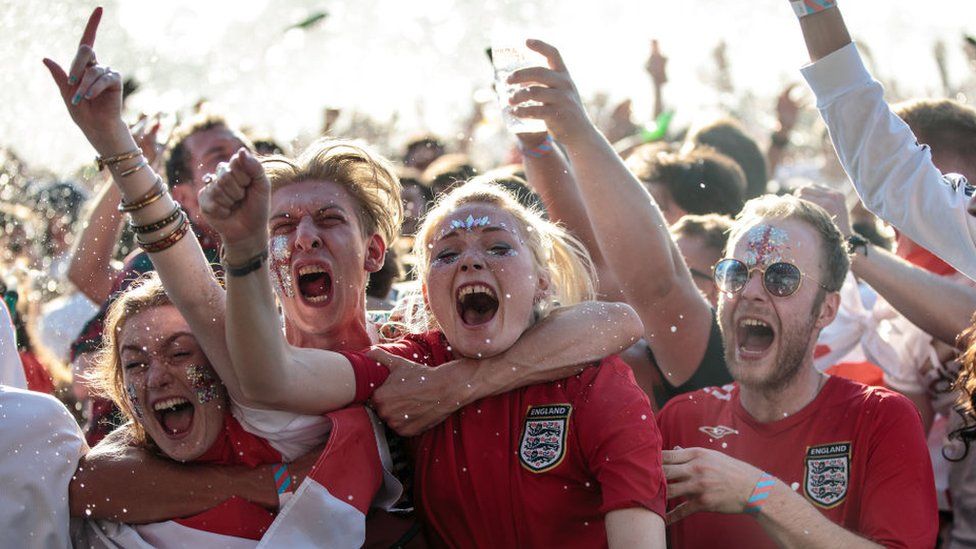 Could England's unexpected football success in the World Cup have had a small but significant impact on feelings of Englishness?
Since England reached the semi-finals for the first time in 28 years under manager Gareth Southgate, there has been a noticeable increase in the number of people - especially young people - saying they are proud to be English.
Across all age groups, backgrounds and different regions of England, the number identifying "very strongly" as English, rose from 54% to 58%. Among those aged 18-24, the increase was slightly more - rising from 46% to 51%.
More people were also keen to emphasise their English identity and to be proud of it.
It repeated questions put to 20,000 people in a BBC/YouGov survey in March 2018. To avoid prompting unconscious bias - and to allow comparison between the two surveys - identical questions were asked, which made no mention of football or the World Cup.
Roughly one person in 10 surveyed in March said they would be embarrassed to describe themselves as English.
This latest poll found an overall increase in those who said they were "very proud" to be English, from 36% to 40%.
The proportion who were either "very" or "fairly" proud rose from 57% to 61%.
Again, the survey found a greater increase among 18-24-year-olds - 27% were "very proud" to be English, up from 21% in March.
Those in this age group who were either "very" or "fairly" proud rose from 45% to 52%.
The proportion of middle-class respondents feeling "very strongly" English increased from 48% to 53%, slightly more than the change for working-class participants (62% to 65%).
And, in one of the biggest changes, those living in London - shown by the earlier BBC poll to be the least "English"-feeling part of England - saw an increase in those describing themselves as "strongly English" from 39% to 51%.
Given the sample size and the volatility that is normal with identity surveys, we shouldn't place too much weight on individual increases.
The significance of the results lies more in the consistency with which association with English identity rose across different questions and different measures of Englishness.
Of course, we cannot be certain that any of these changes are due to the England team's performance in the World Cup.
But more than 25 million people shared the collective experience of watching the semi-final against Croatia, an event focused on England rather than Britain.
So, it does seem more likely that football rather than, say, the sunny weather or parliamentary debates on Brexit, could have had this impact.
You may also be interested in:
Whether this will prove to be a temporary blip or something more long-lasting remains to be seen.
Sharpened English identity has been reported before, not least at the time of debates about Scottish devolution and independence.
Sport alone cannot carry all the burden of defining or sustaining national identity.
So, while success in the 2019 Fifa Women's World Cup or Euro 2020 might help, more important will be the extent to which this new-found confidence in an inclusive English identity is reflected more widely across society.
Edited by Jennifer Clarke