Thames Valley courts custody staff 'too stretched'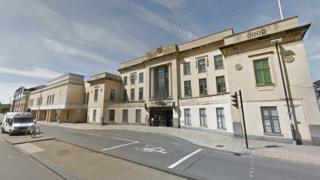 Staffing levels at court custody suites in the Thames Valley area are "too stretched" to keep detainees safe, inspectors found.
HM Inspectorate of Prisons said services provided by private contractor GEOAmey suffered from "insufficient staffing" and "inadequate training".
A report from an unannounced inspection in March said many detainees were held in "unacceptable conditions".
But inspectors added they also found "positive features" during the visit.
GEOAmey, which provides court custody and escort facilities in the region, is contracted by the Prison Escort and Custody Services arm of the prison service, on behalf of HM Courts.
Despite managers' ambitions to improve outcomes for detainees and a willingness among staff, their ambitions were not always achieved, inspectors said.
Chief inspector of prisons Peter Clarke described the management of the cleaning and maintenance contract as "ineffective".
Among the main areas for concern were inadequate staffing of court docks and supervision of legal visits.
The report said risk assessments for those sharing cells were not always carried out and there was not enough focus on whether vulnerable detainees could get home safely after being released.
It said detainees, including children, were routinely handcuffed and cells were dirty and covered in graffiti.
Mr Clarke said: "Overall, this was a mixed inspection. This report provides a number of recommendations for improvement.
"We are confident that strong leadership from the three key agencies will enable swift progress. "
The Thames Valley "cluster", which covers Oxfordshire, Berkshire and Buckinghamshire, includes 10 courts with custody facilities - four crown and six magistrates' courts.
A GEOAmey spokesman said it "acknowledges the report's criticism on staffing levels which is being addressed as part of our business review processes".
"The effective management of risk and the safety of both the public and all detainees in our care is always our number one priority," he added.