Stalking reports treble as prosecution rates fall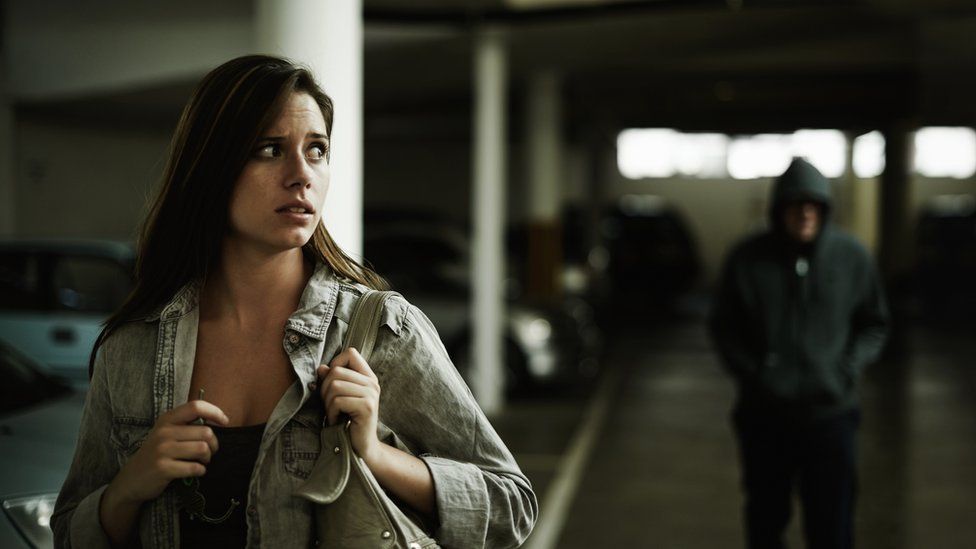 The number of recorded stalking offences has trebled in England and Wales since 2014 - but prosecution rates have plunged, figures show.
It comes after a report a year ago found police were putting victims at risk by not investigating or recording complaints correctly.
National police lead on stalking and harassment, Deputy Chief Constable Paul Mills, admitted there was "more to do".
The Home Office said the rise was due to better recording of offences.
In 2014-15 there were 2,882 recorded offences of stalking, yet by 2017-18 that figure had climbed to 10,214, according to Home Office figures.
The percentage of people charged has significantly reduced, however.
Of the 6,702 cases in which a charge could have been brought, only 1,692 offences (25%) led to one.
The percentage was far higher in 2014-15, when 49% of reported crimes resulted in a charge. That figure fell to 32% in 2015-16 and 30% in 2016-17.
The Home Office said: "The increase in the number of recorded offences is likely to be due to improvements in police recording and increased use of the stalking offence by the police."
However, it said there was still more to be done and was working with the police, CPS and other professionals to improve response and give better protection to victims.
'It's completely relentless'
Dave Mooney, from London, was stalked for eight years by a man he met in the karaoke bar he works in. The man is currently in prison after being convicted of stalking.
He said: "He would do a lot of the abuse on Facebook, making web pages up about me, saying that I'm a paedophile, I'm a rapist, I beat my wife and kids up, that sort of thing, with my full address and phone number.
"It's completely relentless, it wears you down, it makes you upset. I mean I've contemplated suicide in the past because of this guy.
"It seems that all the help is being given to the person that's actually committing the crime, rather than me, the victim. Again it is very frustrating and you feel that you're on your own and you're not getting any help."
Laura Richards, from Paladin Advocacy Service, said stalking was "murder in slow motion".
"Sadly, victims - predominately women and girls - pay with their lives. I have to say that... when murders are reviewed, the police will say 'we will learn these lessons' and 'we've made the right changes', but I'm not seeing that with the leadership.
"I'm not seeing leaders saying this is a priority and actually resourcing these cases and training these staff appropriately."
The report by the Inspectorate of Constabulary and the Crown Prosecution Service Inspectorate, which was published in July 2017, concluded that victims of harassment and stalking were being failed by police.
The joint inspection looked at 112 recent cases in depth, but found not a single one was dealt with properly.
The report also said police officers were failing to recognise repeated signs of a stalker, by treating each complaint in isolation rather than being part of a pattern.
That in turn meant police and prosecutors did not see the bigger picture or appreciate the full scale of the harm suffered by the victim.
Mr Mills added: "I still think there's more to do, I think there's still under-reporting in relation to these crimes.
"That's why we're absolutely committed to making sure that the police service response to what are difficult crimes to investigate is as good as it can be, working with other agencies such as the Crown Prosecution Service, the Home Office and other support agencies."
Related Internet Links
The BBC is not responsible for the content of external sites.