Moon artist Luke Jerram unveils giant Earth sculpture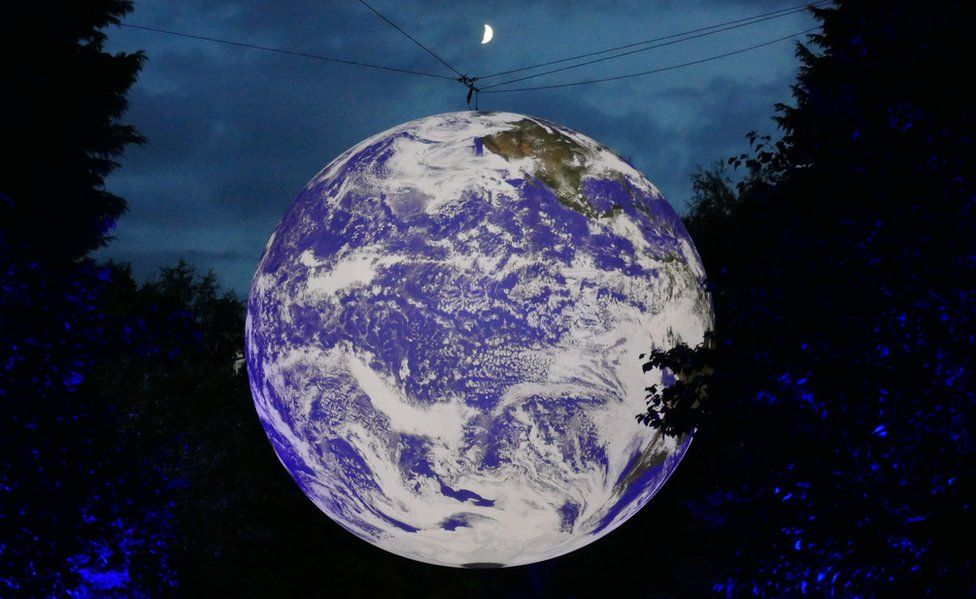 A replica of the Earth, showing how our planet looks from space, has been created by an artist who made a giant Moon.
The 7m (23ft) diameter orb, covered in detailed NASA imagery of the Earth's surface, is 1.8 million times smaller than the real thing.
Luke Jerram said it was "as realistic as possible", and made by Cameron Balloons in his home city of Bristol.
The Earth sculpture has been unveiled at the Bluedot music and science festival at Jodrell Bank in Cheshire.
Stroud-born Mr Jerram said "humanity has been gazing up at the Moon for eternity", whereas it was only within the past few decades we had been able to see the Earth as a planet from space.
"So much mythology, religion, literature and music has been influenced by the Moon, whereas the view of our planet doesn't yet have this long history of influence," he said.
The 120 dpi (dots per inch) artwork was compiled "from multiple fragments and layers", because "as the Earth turns and weather patterns change continually, creating one high resolution image of the entire planet is impossible".
"Created in high resolution it's wonderful at night to gaze at the planet as if from space.
"You realize just how maps distort our understanding of what our planet looks like - one side of the Earth is mainly sea."
Each centimetre of the internally-lit sculpture represents 18km of the Earth's surface.
By standing 211m (230 yards) away from it people can see the Earth as it appears from the Moon, but the UK is not so easy to see on it.
"The UK is too high up and small to spot," said Mr Jerram.
"The artwork shows how insignificant the UK is geographically."
Related Internet Links
The BBC is not responsible for the content of external sites.