Pte Sean Benton: Sister hopes Army will learn from Deepcut inquest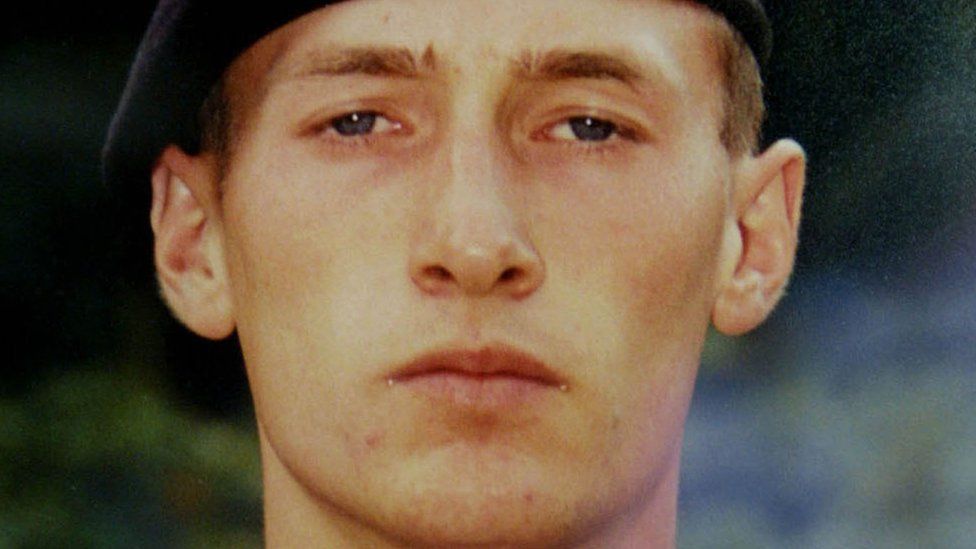 The sister of a soldier who killed himself at Deepcut Barracks says she hopes the Army will now make changes after a second inquest into his death.
Pte Sean Benton, 20, from Hastings, was found with five gunshot wounds to his chest at the Surrey army base in 1995.
The coroner, Judge Peter Rook QC, concluded on Wednesday that he suffered a mental deterioration after verbal and physical attacks by his colleagues.
Tracy Lewis said: "If they don't learn by this, it will happen again."
The inquest heard evidence from more than 170 witnesses since it began in January, and followed a 23-year campaign by Pte Benton's family amid allegations of prolonged bullying at the base.
Mr Rook concluded his death was from suicide.
He said it was clear he was vulnerable at the time and that he might still be alive if he had had proper support from the Army.
Pte Benton was the first of four young recruits to die from gunshot wounds in unexplained circumstances at the Army barracks near Camberley between 1995 and 2002.
He shot himself while on guard duty on 9 June 1995.
An initial inquest, held a month after his death, recorded a verdict of suicide, although no evidence was given about his experiences at Deepcut.
The extent of the abuse he suffered was revealed during the second inquest.
Ms Lewis said: "Putting his face in a puddle, or making him do press-ups over a girl - humiliating him in front of everybody, and hitting him in the back of the ribs.
"There's so much that came out that I didn't know what they'd done."
She added: "The people that were there, that he could seek help from, were actually the people that were bullying him."
The family are now calling for a criminal investigation into the assaults on Pte Benton and misconduct in public office.
Surrey Police's investigation was criticised by the coroner, but it said changes had since been made "at both local and national level, to policy and training regarding both investigative practices and processes".
Jim Collinson, whose 17-year-old son James died from a single bullet while on guard duty at Deepcut in 2002, has called for a public inquiry into the four deaths.
Speaking after Wednesday's inquest conclusions, he said his son had been let down.
"Come night-time you either hid or were abused... the same stories come up over and over again.
"Not enough NCOs to create a safe environment, abuse there from the start, everyone seems to have turned a blind eye," he said.
On Friday, a pre-inquest review is due to be held into the death of the third soldier to die at Deepcut, Pte Geoff Gray.
Related Internet Links
The BBC is not responsible for the content of external sites.