Surrey earthquakes: New equipment measuring more quakes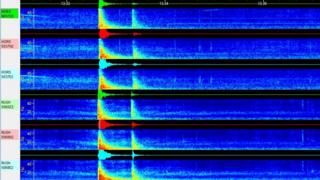 New seismic stations in Surrey are detecting more, smaller earthquakes than were previously measured, as the "Surrey swam" continues.
Tremors measuring 1.7 and 2.5 were felt near Newdigate at about 05:00 BST and 14:35 on Wednesday near Russ Hill.
Dr Stephen Hicks from Southampton University said a 0.4 aftershock had been measured after the second quake.
He said it may take months before seismologists can say what is causing the recent earthquakes.
An oil company said the recent tremors are "categorically" nothing to do with exploration work being carried out about four miles away.
Stephen Sanderson, boss of UK Oil and Gas Investments - which owns the Horse Hill exploration site - said testing was being carried there during only one of the recent tremors.
"We are 5 - 6km away from the epicentres and the data I've seen shows they were clustered around a large fault which comes to the surface near Russ Hill.
"It's categorically nothing to do with us extracting oil at that site."
The Environment Agency said: "The British Geological Survey is leading the investigation into how the recent tremors may have been caused. We are therefore working closely with them and our other partners and the Oil and Gas Authority to gain an understanding of these events.
"All the onshore oil and gas sites across the Weald Basin have the necessary permits to carry out their current programmes of works. "
---
Surrey's earthquake swarm
Three tremors were felt on 1 April. The first had a magnitude of 2.7, a second within minutes came in at 1.8 and the third, an hour later, measured 1.7
The fourth quake on 28 April measured 1.5
The fifth on 27 June measured 2.6
A sixth tremor on 29 June registered 2.4
The biggest quake on 5 July measured 3.0
The 1.7 tremor near Russ Hill was described as a "weak thud"
A 2.5 quake on Wednesday was followed by an aftershock seconds later