Drag queens give support to Dudley boy banned from show
By Sophie Madden
BBC News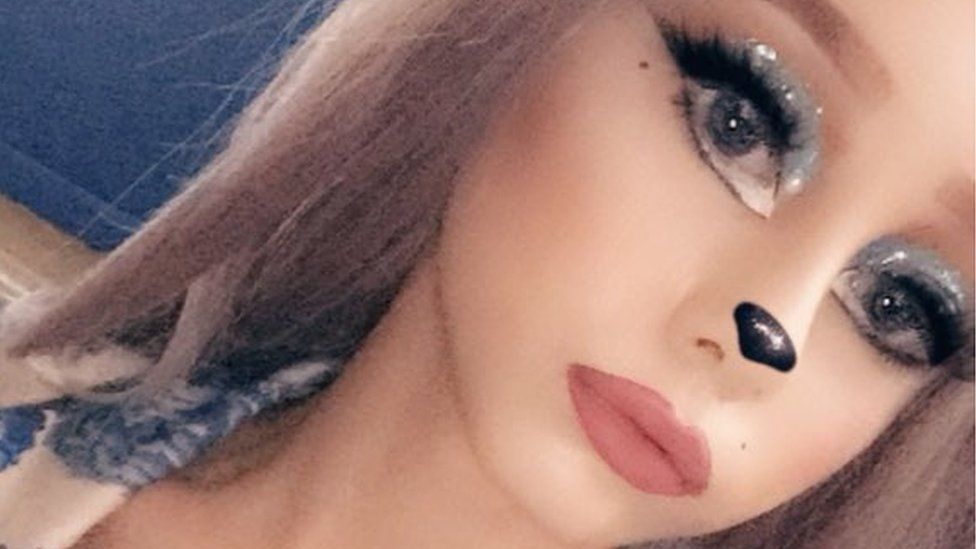 Drag performers have been showing their support for Lewis Bailey, a 14-year-old who was told his performance in a school show was not permitted because of his age.
The artists have come forward to offer Lewis - or his drag alter-ego Athena Heart - spots in their shows and also discussed their own early experiences of being a drag performer.
'It was definitely something to keep secret'
Charlie Hides runs the weekly Sunday Social at London's Royal Vauxhall Tavern where Lewis is now booked to appear in August.
Originally from Boston, Massachusetts, she has lived in the UK since 1999.
"Right away, I said to my team we have got to show Lewis support," she said.
"Back in the 80s I was hiding from my parents, sneaking into clubs. It was definitely something to have to keep secret. Lots of kids were kicked out of their homes
"Sometimes our families don't accept us, but we get to have a family of choice, a tribe, as performers we find that among our drag sisters.
"Drag performers will recognise in Lewis younger version of ourselves, many of us wish we had accepting parents who supported and nurtured us. So we will do that for Lewis, like paying it forward.
"The world has changed dramatically since I started doing drag when I was 16, but there is still a long way to go. That is why we still have pride."
'I mostly see love, happiness and openness'
Birmingham drag queen Ginny Lemon has been working on a show called Fantabulosa - an interactive drag queen story time for kids.
She said: "Essentially it's all about fun being fabulous and teaching children to express themselves.
"I was so shocked and upset that the school had made that decision. Drag is nothing more than dressing up, expressing yourself and being creative.
"A school who wouldn't want that for any kid is appalling.
"I'm so upset to think that this type of thing is still happening, as it did when I was at school.
"At school before I did drag I was told my performance was 'too gay' for various talent shows and even kicked out of a talent show for singing a George Michael song because the teachers thought it was too gay. This was the early 2000s.
"I came from a small town filled with small minds.
"I started taking drag seriously two years ago and I am working on a career in drag. But I have always been dressing up. I used to pretend to be the Abba girls or Diana Ross with my cats acting as my Supremes.
"I have never had any extreme negative reactions from people when I meet them in person. I will always talk to anyone and answer any questions about drag or gender."
She added: "I mostly see love, happiness and openness within the West Midlands. The local Birmingham drag scene is vibrant, creative and accepting.
"Lewis is most welcome to be whoever he wants to be. We would love to see Lewis or help get involved some way with the school to begin to educate them about drag."
'The minute people see drag, any prejudices are thrown out'
Paul Aleksandr is part of the Dragpunk, a collective of performers from Birmingham.
He has been doing drag for about five years, and said it was a "steady evolution" of him trying looks and styles.
Modern drag is still not quite understood, he said.
"At Birmingham Pride, tens of thousands of people pay and go, many of them are young families, people who can't go to clubs, people there to enjoy it because they don't see it.
"The minute people actually see drag and see drag communities and get involved, any prejudices are thrown out."
The collective is seeing more young people and teenagers exploring drag. "They see that it is OK to be different, be female, queer," he said.
"For me at 14, it was a time where the only source of information about being LGBTQ was via dial-up internet. TV had next to nothing."
He said the programme Queer As Folk opened up something he "was excited for".
"There was actual sex, actual emotions, standing up to bullies, an amazing, fun, camp soundtrack. It made me think this Manchester and Canal Street represents a world I can fit in.
"There was very little access to being different and that was tough, I found. No social media, and friends who you didn't want to risk alienating as you didn't quite know what you were doing."
'I get to be someone else for a little while'
Queeny, aka Scott Gethings, says he enjoys drag because he "likes the fact I can make people laugh, give people some enjoyment, talk to people, meet people, express myself".
"I get to be someone else for a little while, I get to make other people smile."
He said he had never really experienced much negativity.
"I just thought, what a shame, all [Lewis] really wanted to do was dress up and make people smile and he wasn't allowed, I couldn't really understand the reasoning - what harm could it ever cause?"
Scott, 30, got into drag professionally about eight years ago when he was given his first club slot, but it started gradually with him dressing up on nights out.
"I've never really had people not understand what I am, I've mostly worked gay venues and there is always the expectation you will bump into a drag queen.
"People maybe asked us what we were doing and didn't understand it was just someone in fancy dress."
'You're always going to get people who disagree'
Matt Spencer, from Birmingham, has been doing drag as Miss Penny for 13 years.
He thought the school's reaction to Lewis's planned performance was "a load of old codswallop".
"Let him be who he wants to be: his parents are supporting him - if he wants to go and do it, let him go on and do it.
"You do get people who don't understand it and loads of confusion between drag queens and the trans spectrum, which is very diverse. But there is a very big difference.
"You're always going to get people who disagree."
Matt, who says he thinks it's much easier to be different now than it was when he was a boy, has a simple piece of advice for Lewis.
"Just do it and be yourself and if you need any advice, come over and speak to Aunty Penny."