ADHD diagnosis for adults 'can take seven years'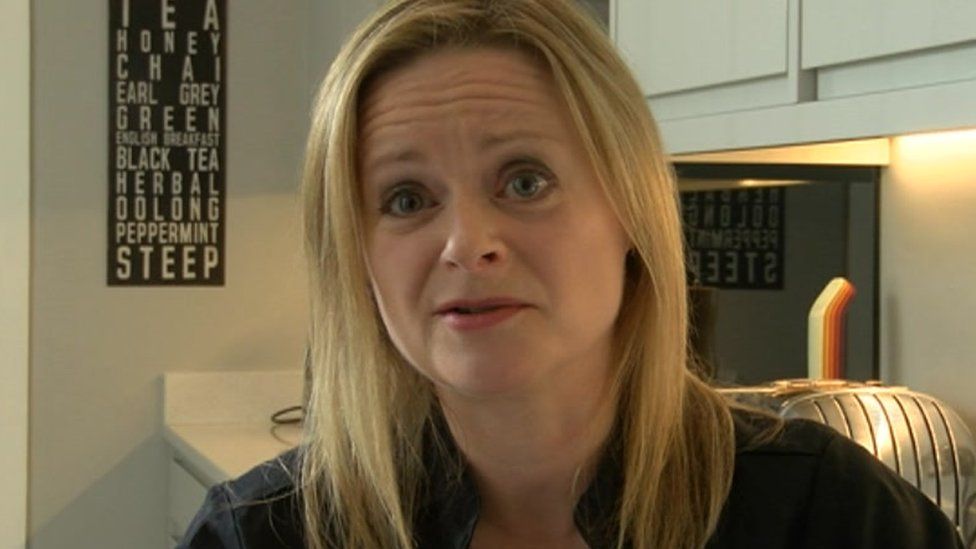 Some adults wait more than seven years to be diagnosed with ADHD because of huge waiting lists, a charity has said.
ADHD Action has lobbied the government to start recording adult ADHD figures, as it already does with autism.
The Royal College of Psychiatrists said people with the behavioural disorder were more likely to commit crime or become suicidal.
About 1.5 million adults in the UK have the condition, ADHD Action said, but only 120,000 are formally diagnosed.
Dr Louise Theodosiou, from the Royal College of Psychiatrists, said an adult with the condition was more likely to take drugs, commit crime or end up in prison.
"ADHD is connected with higher rates of suicide, depression and other mental health needs and untreated ADHD can also impact physical health," she said.
"People can be in a very serious condition while they wait for treatment."
Michelle Beckett, 45, from Harrogate, was diagnosed with adult ADHD in 2017, after being misdiagnosed in her early 20s. Since then she has required support from mental health services and set up ADHD Action following her diagnosis.
"ADHD nearly killed me," she said. "I was suicidal. How many people have lost their lives because they haven't been able to access the treatment, and understand the way their brain works?"
Ms Beckett is now campaigning for better ADHD services and through her charity became involved in the setting up of the all-party Parliamentary Group for ADHD earlier this year.
The Department of Health and Social Care spokesperson said it was "determined to see improvements in access to ADHD services" and was "looking into how data can be collected to support quicker diagnosis and care for patients".
They added: "Early intervention is essential in supporting anyone with ADHD and the National Institute for Clinical Excellence recently updated guidance to make it easier for doctors to spot and diagnose the condition."
'You're treated like an idiot'
Steven Spencer, 42, from Haxby in York, was diagnosed after trying to get help for 15 years.
He has suffered with anxiety and depression and has been suicidal.
"It's not that you speak too much or you're fidgety, it's that - maybe because you have less of an ability to retain information - people have to explain things more, over and over again," he explained.
"You know you're not an idiot but you're treated that way by other people. That in itself is soul-destroying."
Mr Spencer said at primary school he was "thrown in the corner by my ear all the time" because he could not sit and concentrate.
"I was full of energy," he said. "Now they understand these kids are rocking and fidgeting to help them concentrate."
Mr Spencer said when he asked to access help his GP "laughed in his face".
"He basically said, 'adults don't have ADHD, you should have grown out of it by now'."
Ms Beckett said finding out she had ADHD, even in her 40s, had changed her life.
"It just explained my whole life," she said. "Why I find things overwhelming, why I can't direct my attention, why I struggle to regulate my emotions.
"People tell me they've been on the waiting list for three years and we've heard of over seven years in some parts of the country.
"This cannot continue. People are suffering, and the UK is suffering as a result.
"The NHS will save money fairly quickly by addressing ADHD, as so much is currently wasted on inappropriate treatments and medications for anxiety and depression, when the underlying cause is ADHD."
Symptoms include inattentiveness, hyperactivity, impulsiveness, anxiety and sleep problems
ADHD was first recognised as a valid condition in the UK in 2000, but not officially recognised as an adult condition until 2008
In 1990 only 40 children in the UK were on medical treatment, which means many adults have not been not treated or managed properly
At least a third of these are likely to have significant ongoing problems as adults
An estimated 30% of adult prisoners have ADHD
ADHD affects 5% of children and 3% of adults (1.5 million) in the UK, making it the most common behavioural disorder in the country
About a third of children are diagnosed, while for adults it is about 7-8%
Related Internet Links
The BBC is not responsible for the content of external sites.