Prince Charles' friendship with Peter Ball 'well known'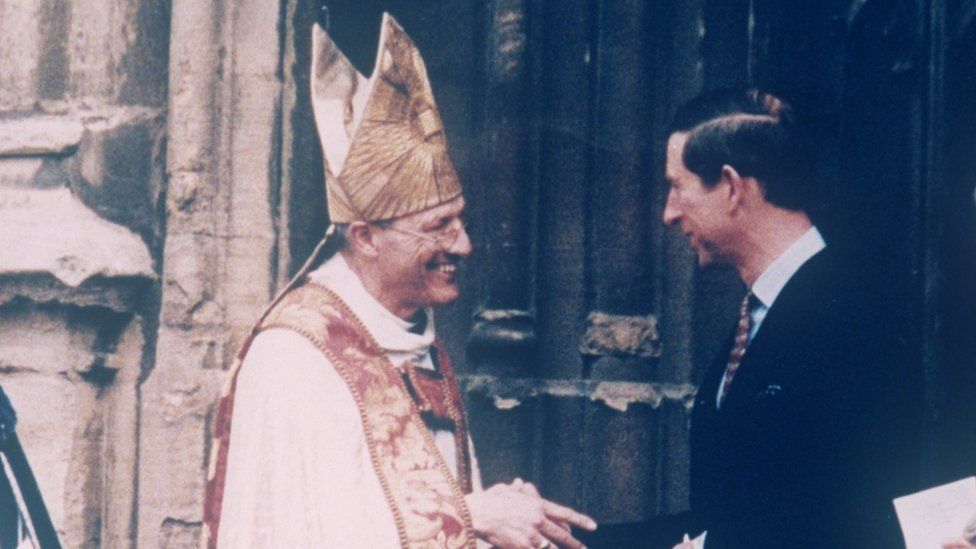 A sex offender bishop's friendship with the Prince of Wales did "not specifically" affect how church bosses dealt with him, an inquiry heard.
Andrew Purkis, a former adviser to ex-Archbishop of Canterbury George Carey, told an inquiry into the abuse Ball's prominent links had been well known.
Also on Wednesday an ex-police officer told the inquiry Lord Carey withheld letters from the initial investigation.
Mr Purkis worked as Lord Carey's secretary for public affairs from 1992 to 1998 and had advised on public perception of the church and media coverage.
When questioned at the Independent Inquiry into Child Sexual Abuse (IICSA) on whether Ball's friendship with the senior royal influenced Lambeth Palace's treatment of the clergyman, Mr Purkis said: "Not specifically."
"I think it was very well known in Lambeth Palace that not just some great and good people but also loads of church people had a very high opinion of Peter and kept writing letters saying so," he added.
"We would take that into account in the way we talked about things publicly."
He said Ball's friendship with the prince "was not really a significant factor that was brought to bear".
Ball, now 86, sexually abused 18 men and boys over 30 years between the 1970s and 1990s.
Mr Purkis, who had helped draft press releases from Lambeth Palace, admitted some statements at the time of Balls' arrest in 1992 were "one-sided" and gave little to no emphasis on victims.
He added Lambeth Palace had been "grossly, insufficiently aware" of the extent of abuse allegations against Ball.
Wayne Murdock, a Gloucestershire Police officer for 37 years, who looked into the allegations while Ball was a bishop in 1992 and 1993, also gave evidence at the inquiry.
He told the IICSA Lord Carey withheld letters from victims which would have helped the initial investigation.
Fiona Scolding QC suggested the information given to Gloucestershire Police by victims - including details about naked prayer and massages - was not materially different to letters received by Lord Carey at the time.
Mr Murdock said: "We should have been the judge of that, not the archbishop. He knew we were carrying out investigation and he withheld that information.
"Had we had names, we could have followed up, gone and interviewed them and perhaps we would have got far more out of those people than had been revealed in those letters."
Lord Carey gave evidence to the inquiry on Tuesday, during which he said the earliest allegations of Ball's abusive behaviour .
Ball was Bishop of Lewes, in East Sussex, between 1977 and 1992 and Bishop of Gloucester from 1992.
That year he was questioned by police and given a caution. He resigned as bishop in 1993.
Ball was released from prison in February 2017, having served 16 months.
Related Internet Links
The BBC is not responsible for the content of external sites.