'Bed poverty' impacts thousands, says charity Buttle UK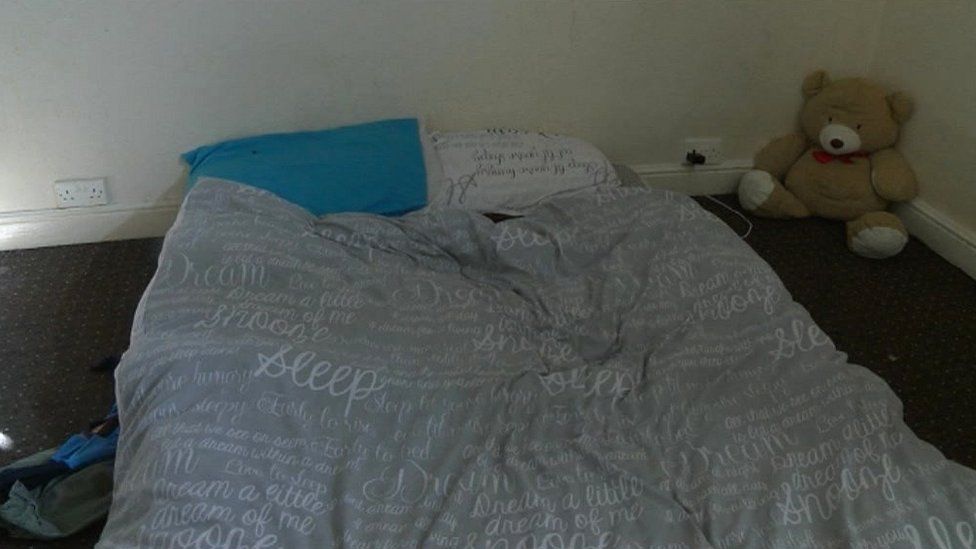 The government is failing to tackle "bed poverty", with thousands of children having to share with siblings or sleep on floors, a charity has said.
Buttle UK helped more than 3,000 vulnerable families buy beds for their children last year.
It fears thousands more across the UK may lack a bed of their own, leading to problems concentrating in school.
The government said its welfare reforms were "supporting those who need it most".
Buttle UK provides grants to vulnerable families to fund basic household items, with around a third of the 10,000 families it helped in 2017 using the money to buy beds.
Using national child poverty statistics, it extrapolated its figures and estimated there could be hundreds of thousands without beds.
The charity has written to politicians in 10 areas of high deprivation asking them to help resolve the issue.
Sarah Khan, a single mum from Bradford in West Yorkshire, was given a bed by the charity for her four-year-old son Mikhail after he had been sleeping in hers alongside her.
"He was keeping me up all night kicking, and I was surviving on just two hours' sleep, so obviously I was getting poorly myself," she said.
"I was walking around half asleep most of the time, I was struggling to eat because I was so tired.
"In 2018 you shouldn't have to choose whether to feed your kid or wash their clothes, the reality is we're having to choose."
The letter from the charity's chief executive to MPs and council leaders in 10 local authority areas with high levels of deprivation said the UK's social safety net was "fraying".
Gerri McAndrew also called for discussions between the charity and local authority leaders to "address the situation".
She wrote: "We are seeing increasing evidence amongst those we support that the changes to the welfare system of recent years are increasing the financial pressure they are already under.
"While we understand that public funds are stretched, we expect every local authority to commit to ensuring that no child in their area will sleep without a bed of their own."
Local authority areas contacted by Buttle UK and number of beds distributed in 2017-2018:
Birmingham - 125
Kent - 55
Bradford - 46
Essex - 37
Lancashire - 33
Leeds - 23
Manchester - 23
Hertfordshire - 22
Norfolk - 17
Hampshire - 11
The charity has provided more than 13,500 beds to children in the past five years, with staff experiencing a rise in demand over that time period.
Olu Alake, director of grant programmes and project development for Buttle UK, said: "Not having a bed means you don't get a good night's sleep, not having a good night's sleep means you can't concentrate properly in school.
"It means that your self-esteem is eroded because you can't bring friends back to your home, and that's such an important part of childhood."
The government said its programmes were targeting support in "some of the poorest areas of the country".
"Welfare reforms offer parents tailored support to move into work, ensuring that even more families can receive the benefits that work can bring, and as well this we are spending £90bn a year on welfare to support those who need it most," a spokesperson said.
Related Internet Links
The BBC is not responsible for the content of external sites.