Duncan Tomlin arrest death: Officers 'failed to respond' to emergency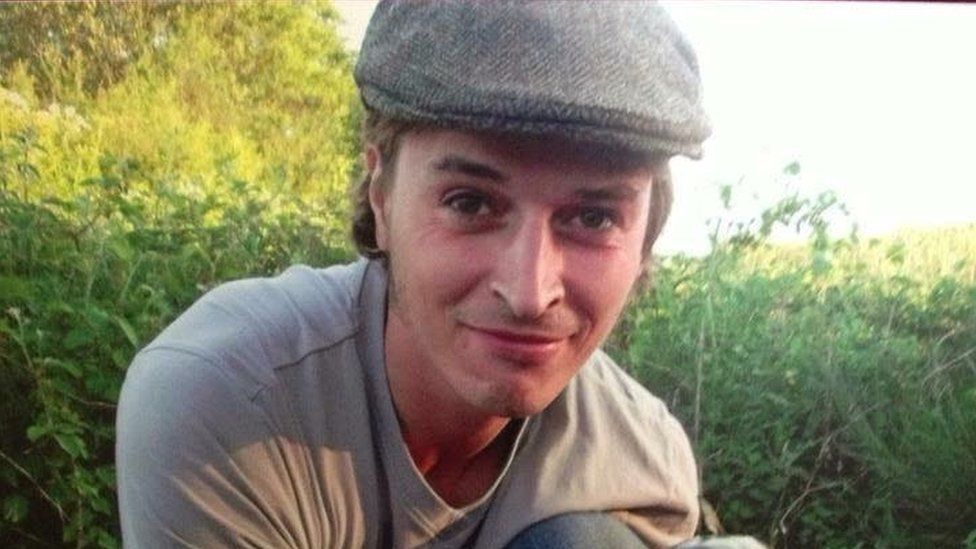 A man who died after being restrained by police was held in a van for more than seven minutes before receiving CPR, a misconduct panel has heard.
Duncan Tomlin, 32, died in hospital two days after a struggle with police in West Sussex on 26 July 2014.
His partner warned officers he could be having a seizure, but he was wrestled to the ground and placed in restraints.
Three Sussex Police officers have denied misconduct and gross misconduct.
Sgt Christopher Glasspool and PCs Jamie Jackson and Daniel Jewell have insisted they acted appropriately.
After the struggle in Haywards Heath, Mr Tomlin was placed in restraints and held face down on the floor.
He was then carried into the van with his legs curled behind him, the hearing in Lewes was told.
The 32-year-old, from Oxfordshire, had traces of recreational dugs in his system, pathologists found.
This, alongside positional asphyxia, played a part in his death, the panel sitting at the Sussex Police and Crime Commissioner's office heard.
The officers are accused of "inexplicable" delays in removing his restraints, the police force's barrister Mark Ley-Morgan said.
Sgt Glasspool is also accused of failing to properly assess the situation and to consider the risk of asphyxia.
Two other officers have also been investigated.
PC Russell Watson faced a private misconduct hearing on Friday and was cleared, while PC Alex Bennett resigned before proceedings could be brought.
The pair responded to a 999 call reporting neighbours fighting, the hearing was told.
When they arrived, Mr Tomlin punched PC Watson and they fell into a violent struggle.
Mr Tomlin was sprayed in the face with an incapacitant but turned it on PC Watson and was arrested.
Off-duty Det Con David Shahbazi heard the commotion and came to assist.
Sgt Glasspool and PCs Jackson, Jewell and two other officers - who are not the subject of proceedings - arrived when a call was made for back-up.
Giving evidence, PC Watson said he told Sgt Glasspool about possible epilepsy but in cross-examination admitted he could not remember the exact conversation.
Mr Ley-Morgan said: "If Sgt Glasspool received this information, he ignored it and failed to treat a medical emergency."
CCTV footage played during the hearing showed the officers kneeling on Mr Tomlin who was face down.
He was in the van for seven minutes and 31 seconds before being carried out and given CPR, the panel heard.
Mr Ley-Morgan said: "Failure [to deal with the situation] is so serious that it amounts to gross misconduct and dismissal would be justified."
Related Internet Links
The BBC is not responsible for the content of external sites.