Air ambulance boss Adrian Bell quits amid 'bullying' row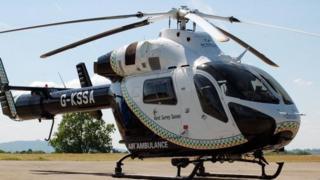 The chief executive of an air ambulance trust has left his job after claiming some staff were being bullied, BBC South East has learned.
Adrian Bell, an ex-Royal Navy officer who served in the Falklands, ran the Kent, Surrey and Sussex Air Ambulance Trust for eight years.
He left after claiming the chair acted to "intimidate, humiliate and belittle" staff, a leaked report showed.
Trust chairwoman Dr Helen Bowcock said her role was to support her team.
In July, the trust said Mr Bell had returned to his navy roots to take up the helm as chief executive of the Royal Navy and Royal Marines Charity after eight "highly successful years".
The statement said Michael Docherty, from Cancer Research UK, had been appointed as interim chief executive in his place and it was "business as usual".
However, the BBC has seen an independent, confidential report written for the air ambulance trust which said Mr Bell had accused Ms Bowcock of treating him "in a rude and offhand manner to the serious detriment of their working relationship".
The report said some staff and Mr Bell believed there was conduct that amounted to "humiliating and intimidatory bullying" and noted Mr Bell had "felt honour-bound to do the right thing by his staff" by speaking out.
The author did not find there was "intentional bullying or intimidation of staff" but went on to say: "I was struck by the level of fear and apprehension in staff, and their feelings of powerlessness."
He recommended a review of workplace culture.
Dr Bowcock said: "For eight years, Adrian and the board of trustees have supported the Kent, Surrey and Sussex Air Ambulance team in achieving world-class research, pre-hospital care and impressive life-saving clinical outcomes for the 4.7m people across 3,600 square miles in Kent, Surrey and Sussex.
"We are proud of our work and thank Adrian for his dedication and commitment. We all wish him well in his new job."
She continued: "My role and that of every trustee is to continue supporting the team in the best way we can, and I look forward to spending more time with them, so that together we can keep improving the quality of services we provide and save many more lives."
In March, Care Quality Commission inspectors praised the air ambulance charity for its constructive engagement with staff and found employees were proud of the organisation and spoke highly of its culture.
A spokesman for the Charity Commission said: "The Commission is aware of allegations relating to bullying and harassment at the Kent, Surrey and Sussex Air Ambulance Trust.
"Anyone involved in a charity has the right to feel protected and free from harm, so issues around safeguarding are of serious concern to the commission.
"An independent review is under way at the charity. We are currently analysing information provided and will be engaging with the trustees to assess their handling of the concerns and determine our next regulatory steps."