South Western Railway workers hold fourth guard strike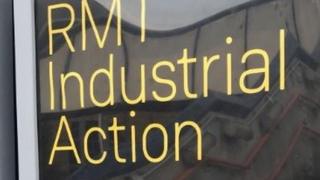 Rail workers are holding a fourth 24-hour strike over the role of guards on South Western Railway (SWR).
Talks on Tuesday between the company and the Rail, Maritime and Transport union (RMT) failed to resolve the long-running dispute.
A SWR statement said the "unnecessary, damaging strikes" would "disrupt passengers' journeys" on Saturday.
The RMT said the company was "out of kilter with huge swathes of the rail industry".
Union members have so far staged three out of eight planned 24-hour walkouts this summer.
The RMT has called for a "cast-iron guarantee" of guards on trains and a "halt to the rolling out of Driver Only Operation".
SWR has said its proposal would see a guard rostered on all services, but would allow trains to operate if, "in exceptional circumstances such as service disruption, no guard was available".
RMT General Secretary Mick Cash said the firm had reneged on a promise to consider the union's proposals at Tuesday's ACAS talks.
He said: "RMT is angry and frustrated that once again South Western Railway are playing fast and loose with the talks process."
The rail operator said it had offered to "mirror" an agreement already reached with the union on Greater Anglia railway, but the RMT had rejected the deal.
A statement said: "The RMT... should explain to South Western Railway passengers why what's a fair deal there isn't a fair deal here."
The company said it would run a reduced service on Saturday, although the Isle of Wight would be unaffected.
No SWR trains will run to some stations in Berkshire, Bristol, Devon, Dorset, Hampshire, London, Somerset, Surrey and Wiltshire.
Replacements buses will operate on some affected routes.
The remaining strikes are scheduled for 11, 18 and 31 August and 1 September.