Union claims rail company 'cover up' over Northern rail disruption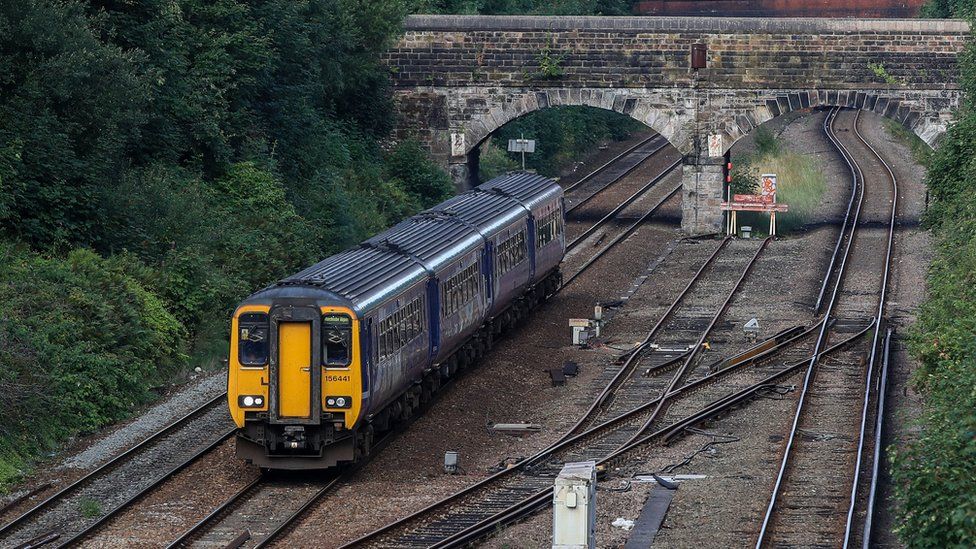 A rail workers' union has hit back at train operator Northern's claims it was forced to cancel services because staff made themselves unavailable.
In the latest disruption to the network which covers northern England, 79 services were affected on Sunday.
The Rail, Maritime and Transport (RMT) union said Northern blamed employees to "cover up" a staff shortage.
A spokesman for Northern said it had enough drivers to operate the service in "normal circumstances".
Mayor of Greater Manchester Andy Burnham said Northern should pay staff extra to work Sundays.
An amended timetable for trains was put in place on lines service Liverpool, Manchester, Wigan and Blackpool and buses replaced some services.
The cancellations followed months of disruption to Northern services, which saw the operator introduce a reduced temporary timetable in June.
RMT general secretary Mick Cash said: "It is outrageous for Northern to try and lump the blame for the crew shortages that led to widespread cancellations yesterday on their workforce.
"It is a scam to try and cover up the fact that they simply don't hire enough workers to fill their rosters.
"This garbage about 'staff making themselves unavailable' is a twisting of words that is positively Trumpesque."
Mr Cash called for Northern's franchise to be rescinded and the service nationalised.
Mr Burnham told the BBC: "It is up to the company to fulfil the terms of their franchise and that means having enough staff in work to run the trains.
"And if they need to pay extra incentives to the staff they are going to have to do that. And I think that is the issue a lot of the time, they won't put their hands in their pockets."
A spokesman for Northern said: "We actually have more drivers than we need to run a full timetable in normal circumstances.
"We currently have 1,529 train drivers, 180 more than when we started the franchise."
Related Internet Links
The BBC is not responsible for the content of external sites.