Police forces 'failing' to record thousands of crimes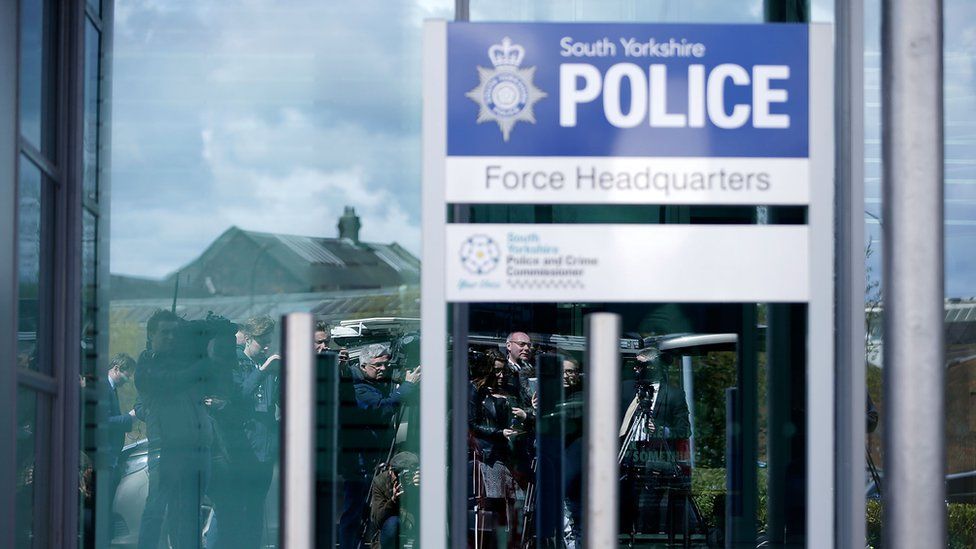 Three police forces failed to record thousands of crimes a year, the police watchdog has said.
South Yorkshire Police "requires improvement" four years after criticism about the Rotherham sex abuse scandal.
HM Inspectorate of Constabulary and Fire and Rescue Services (HMICFRS) said improvements were made but staff "did not understand" recording rules.
Cleveland Police was rated "inadequate" and Bedfordshire Police "requires improvement".
The latest reports show nine out of 26 forces inspected since 2016 are "inadequate" and are failing to record between one in six and one four crimes reported to them.
Another nine require improvement.
HMICFRS said South Yorkshire Police was not recording about 17,000 crimes a year, about one in every 10 reported to it, including cases of domestic abuse and vulnerable victims.
Cleveland Police was found to have failed to record about 10,800 crimes a year, just under 17% of those reported to it, while Bedfordshire Police failed to record 4,800 crimes, just under one in every 10 reported to it.
'Delays preventing support'
HMICFRS has been inspecting forces in England and Wales for their "crime data integrity".
According to the report, which covered June to November 2017, 10.5% of reported violent offences and domestic abuse crimes in South Yorkshire were unrecorded.
But HMICFRS praised the force for its "highly-accurate recording of reported sexual offences" and "good crime-recording of modern slavery crimes".
HM Inspector of Constabulary Matt Parr said he was pleased the force had "made good progress" but had seen evidence staff "simply did not understand the Home Office's crime recording rules".
"Early support can be crucial for victims of crime and these delays are preventing victims accessing the support they need," he said.
"I am aware that South Yorkshire Police has made immediate moves to resolve some of these issues since our inspection.
"I am recommending that they continue to improve training provision and supervision procedures to ensure we see an even more marked improvement in the future."
In a statement, the force said it took "these recommendations seriously".
"A programme of work has already been implemented to deliver improvements," it added.
You may also be interested in:
During its last inspection in 2014, South Yorkshire Police came under fire for not properly recording crimes against children.
Inspectors said the force's public protection unit showed "a disregard for victims" and had spent a "great deal of time" trying to "disprove" allegations.
An inquiry found at least 1,400 children in Rotherham were sexually exploited from 1997-2013, mainly by gangs of men of Pakistani heritage.
What is "recorded crime"? By Dan Wainwright, BBC England Data Unit
Police have to decide whether or not an incident that someone has contacted them about is a crime.
In some cases an officer may investigate a call or a complaint, a victim may even be given support and everyone may have done absolutely everything possible to help. However, for it to be treated as a crime it has to be "recorded" as one.
This is important as it measures not just how well a police force is dealing with problems in its area, but also whether certain types of crime are rising or falling and whether there are any local or national patterns emerging.
So it is essential that that picture is as accurate as possible and that crimes do not go unrecorded.
In 2014 the police watchdog found one in five crimes reported to police were not being recorded.
It created "crime data integrity" reports following approval by the then Home Secretary Theresa May and since then HMICFRS has been inspecting police forces and issuing reports and grades on their performance in recording clime.
So far, most of the forces inspected have been told they have to do better.
A spokesman said it recognised the need to improve and had already made changes to provide the best possible service.
HMIC inspector Matt Parr said: "To give Cleveland their credit we think the force has got a good attitude.
"Their seniors take it very seriously, they recognise why it's important, they want to do the right thing - it's just not happening on the ground to the accuracy we'd want."
A further nine forces have been told they require improvement while just eight have been graded "good".
With just under half of forces still awaiting an inspection report, chief constables will want to show they can see the whole picture of crime in their area and that they are helping victims receive the support they need right away.
Related Internet Links
The BBC is not responsible for the content of external sites.