Moorland fires: Brigades 'may need emergency cash'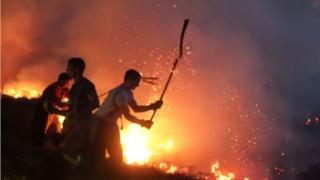 Fire services in areas worst hit by this year's moorland fires may need to apply for emergency government funding, one brigade has suggested.
South Yorkshire crews fought 1,227 wild and grass fires during an exceptionally dry and hot May to July period, about triple the usual number.
Lancashire services dealt with 535 blazes in the same period, up from 175 last year.
That brigade said it might request emergency financial assistance.
The "exceptional" cost of the fires in Lancashire had yet to be assessed, said spokesman John Taylor, but it may involve asking the government for money under the Bellwin scheme, which also supported emergency services after last year's Grenfell Tower fire.
"Moorland fire is not on a par with something like Grenfell but it's important nonetheless, and it isn't something we want to brush aside as being a lesser priority," he said.
'Burning rubbish'
Firefighters from 20 different services spent more than a month battling a huge fire covering 18km sq (6.9 square miles) at Winter Hill, near Bolton, which was finally declared out on Wednesday.
A full debrief into the costs of tackling that fire - and an examination of the wider issue of wild and grass fires - had yet to be conducted, said Mr Taylor.
"Carelessness probably accounts for the majority," he said.
"It would seem that there's a lot more to be done in terms of public education.
"If someone is burning rubbish or garden waste in the garden and doesn't take account of the conditions, a spark can set fire to grass, trees, a neighbour's fence. "
As the summer's hot weather created tinderbox conditions, fire services across northern England found themselves dealing with numerous fires on moorland and in nature reserves.
The army had to be drafted in to help Greater Manchester crews deal with a blaze at Saddleworth Moor in Tameside, 30 miles away from Winter Hill.
On one day in late July, South Yorkshire Fire and Rescue's control room took 336 emergency calls.
Data obtained by the Press Association via Freedom of Information requests suggested more than 70% of the fires in South Yorkshire were started deliberately, although this was a similar proportion to previous years.