South Western Railway halt strike for further talks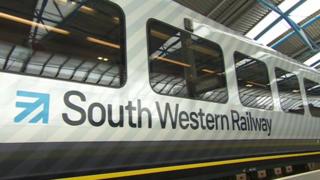 A strike by South Western Railway workers has been suspended to allow for "further talks" in the long-running dispute over guards on trains.
RMT agreed to call off the Saturday walkout after having a "flurry of correspondence" over the past 24 hours with the rail company.
South Western Railway (SWR) said it was "pleased" and planned to run its full Saturday timetable.
Both parties said the rest of scheduled industrial action would remain.
RMT general secretary Mick Cash said the union remain "committed to negotiating a settlement" with SWR.
Union bosses previously said the rail company had "sabotaged" and made a "mockery" of talks over plans to roll out its driver-only operation.
The strikes still in place are on 18, 31 August and 1 September.
The RMT has said changing the role of guards and extending driver-only services would compromise staff and passenger safety, which the government denies.