Former Conservative MP Sir Peter Tapsell dies aged 88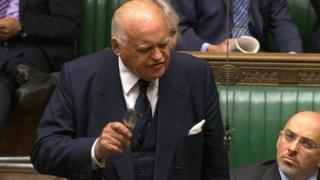 Former Conservative MP Sir Peter Tapsell has died aged 88.
Sir Peter was "Father of the House" when he stood down as MP for Louth and Horncastle in 2015.
He had served continuously in Parliament since 1966, and also spent five years as Nottingham West MP before losing his seat in 1964.
Sir Peter did not serve in any Conservative governments, but was an opposition spokesman in the 1970s.
Craig Leyland, chairman of Louth and Horncastle Conservative Association, said Sir Peter had served the constituency loyally and had never been afraid to speak his mind.
Sir Peter served under nine Conservative leaders.
He served on the frontbench as a foreign affairs and then Treasury spokesman but resigned in 1978 in protest at Margaret Thatcher's monetarist policies.
A Eurosceptic, Sir Peter was one of the rebels who opposed the 1993 Maastricht Treaty.
He had a lucrative second career as a stockbroker, claiming to have been earning £500,000 a year in the 1970s.
Described as "the grandest of grandees" by the late sketch writer Simon Hoggart, in 2011 he was appointed to the Privy Council - a rare honour for a backbencher.