August Bank Holiday: The roads to avoid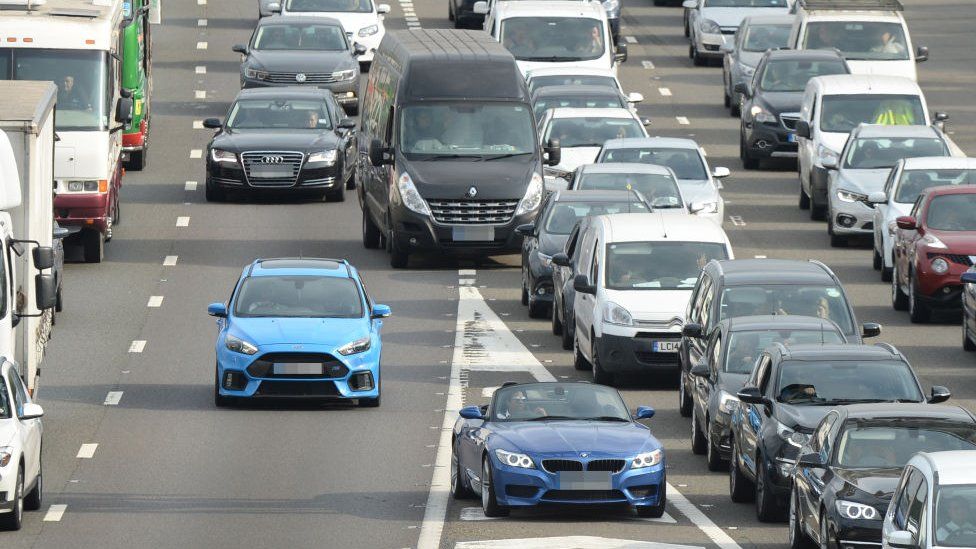 Drivers are being warned to expect delays of up to an hour on motorways on Friday ahead of the August bank holiday.
Most roadworks on motorways and major roads in England will be lifted but about 40 sets will remain for safety reasons.
Experts predict roads will become congested from 14:00 BST on Friday as holidaymakers mix with commuters.
Rail engineering work means there will be no trains to and from London Euston.
Most direct Virgin Trains services between the capital and the north-west of England have been cancelled with remaining services terminating at Milton Keynes.
Where will be busiest on the roads?
Journeys on the M5 between junctions four (Bromsgrove) and one (West Bromwich) from 09:30 to 14:00 on Friday could take four times longer than usual to travel, about one hour and 21 minutes instead of the average 21 minutes.
The M20 in Kent, junctions nine to three, could take more than an hour for a journey normally lasting 22 minutes. The peak time is expected to be 07:30 to 09:30 and affects drivers heading towards the Channel Tunnel and Port of Dover.
On Saturday, journey times on the M1 between Leicester and Nottingham are expected to rise from a normal 16 minutes to just over an hour, particularly between 14:30 and 17:00. The stretch includes eight miles of roadworks that are not being lifted.
In Newport, Wales, drivers on the M4 between junctions 29 and 24 could take half an hour to cover a journey that normally lasts about 13 minutes. The peak time on Friday is 10:30 to 17:30.
In Northern Ireland on Saturday, the 6.4 mile stretch of the A6 from Eden River to Dungiven may take 35 minutes instead of the usual 10.
And in Scotland, where there is no bank holiday this weekend, drivers are warned the M8 A725 in Belshill to the A779 at Bathgate might take about 39 minutes instead of a normal 25 on Sunday.
The predictions by the RAC and transport analysts Inrix are based on data for previous bank holidays, planned construction and road closures, events and weather forecasts.
RAC spokesman Rod Dennis said drivers should also expect the Almondsbury interchange at Bristol, where the M5 and M4 meet, to be busy.
"As tens of thousands of drivers head for Devon and Cornwall the coming-together of traffic leads to regular tailbacks every Friday afternoon," he said. "Add a bank holiday and some sunshine into the mix and it's the perfect recipe for a long wait on the motorway."
Highways England said it would lift or finish roadworks on motorways and major roads by 06:00 on Friday. It said 97% of the network would be clear but has left about 40 sets in place for safety reasons.
Trains will be disrupted by 400 sets of engineering work taking place over the weekend. It means:
No trains to or from London Euston from Saturday to Monday or the following weekend, 1-2 September.
No trains at Bolton from Saturday until Friday 31 August and replacement buses running between Manchester, Preston, Wigan and Blackburn
Replacement buses between Coventry, Leamington Spa and Birmingham International, affecting Birmingham Airport passengers, from Saturday until 12:00 on Monday
Replacement buses between Crewe and Liverpool South Parkway from Saturday to Monday
Peter Broadley, Virgin Trains executive director, said: "With no services into or out of Euston we strongly advise our customers to avoid travelling to London on the days affected."
Network Rail says it uses bank holidays for major engineering work as this is when fewer people travel by train.
Strike action at Liverpool John Lennon Airport, involving about 80 members of the GMB union, starts at 19:00 on Thursday and is due to continue until 07:00 on Saturday.
Related Internet Links
The BBC is not responsible for the content of external sites.