Luton Airport 'UK's worst airport' for third year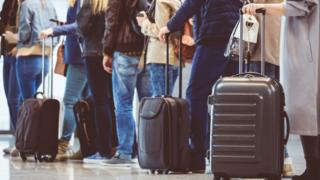 Luton Airport has been named the worst in the UK for the third year in a row in a passenger satisfaction survey.
Luton was rated one star for its baggage drop queues, shops, seating, toilets and staff in the Which? study.
An airport spokesman said the survey represented a fraction of passengers and that 70% of people it polled were "happy with their experience".
Doncaster Sheffield was named the best UK airport, with praise for its queues, facilities and speedy baggage reclaim.
It came top of the consumer group's list for the second year, and got an overall score of 87%.
The report blamed "disastrous customer service" for Luton Airport's customer score of 35%, based on overall satisfaction.
But Nick Barton, CEO of the airport, said £160m had recently been spent on improvements.
"In the first six months of 2018, 1.2 million passengers responded to our customer service tracking, 70% of whom told us they were happy with their experience," he said.
---
The top five UK airports according to Which?
1. Doncaster Sheffield (87%)
2. Southend (84%)
3. Newcastle (74%)
4. Southampton (73%)
5. Exeter (72%)
The five worst UK airports according to Which?
1. Luton (35%)
2. Stansted (44%)
2. Manchester Terminal 3 (44%)
4. Manchester Terminal 1 (46%)
5. Aberdeen (49%)
---
'New facilities'
Which? surveyed its subscribers who had travelled through an airport between May 2017 and May 2018.
Customer score is based on a combination of overall satisfaction and how likely respondents were to recommend the airport to a friend.
The title of second-worst UK airport, according to Which?, is jointly held by Stansted and Manchester Terminal Three, both recording scores of 44%.
A spokesman for the Manchester Airports Group (MAG), which operates Stansted and Manchester, said both airports had grown their passenger numbers by nearly 50% over the last five years.
He added: "MAG is now investing in our airports to create brand new facilities, more capacity and better designed space.
"We are also investing in more front line staff and a number of other initiatives to provide passengers with a good experience at our airports."
Luton is in the large UK airports category with 10m or more passengers per year, and Doncaster is classed as a small airport.
Luton is now the UK's fifth-busiest airport in terms of people using it, carrying 16 million passengers in 2017, compared to Doncaster's 1.3 million.
Doncaster Sheffield Airport chairman Robert Hough said he was "proud" of the "great recognition", adding: "We have always set out to deliver a top class passenger experience, it's what people should enjoy when at an airport."
Luton is undergoing a multi-million pound terminal expansion, which has led to disruption, and recently celebrated its 80th birthday.
A growth plan published in December, with the ambition of reaching 38 million passengers by 2050 with 240,000 flights a year using its one runway, has been criticised by Hitchin and Harpenden MP Bim Afolami.