'Well-organised' gang flew drones carrying drugs into prisons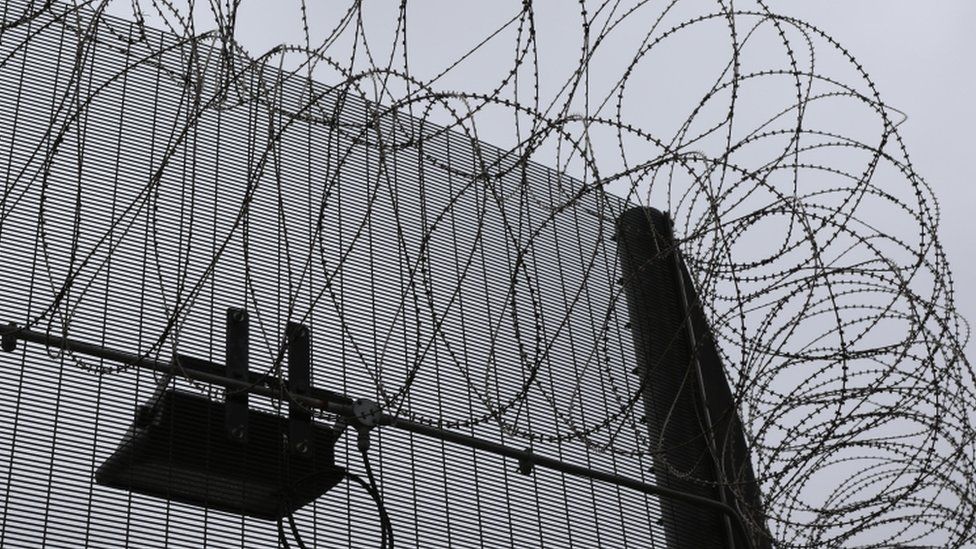 A "well-organised" gang used drones to fly drugs and mobile phones into jails, delivering contraband straight to inmates' windows, a court has heard.
Lee Anslow is accused of setting up drone deliveries at prisons around the country, while an inmate at HMP Hewell in Worcestershire.
The court heard fake food cans packed with cocaine and Sim cards were found when officers raided his cell.
He and four others deny the charges against them at Birmingham Crown Court.
Mr Anslow is alleged to have been at the centre of a "spider-web of activity" and is accused, along with three men and a woman, of conspiracy to bring drugs, mobile phones and Sim cards into jails between April 2016 and June 2017.
Stella Deakin, 40, of Boundary Hill, Dudley, - alleged to have driven the pilot of the drone- Mr Anslow, 31, and Paul Ferguson, 27, both of Boundary Hill, Dudley; Stefan Rattray 28, of Attingham Drive, Dudley; and Shane Hadlington, 29, of Clay Lane, Oldbury, are also charged with supplying psychoactive drugs in jails between May and June 2017.
Drone deliveries were made to HMP Oakwood, HMP Featherstone and HMP Dovegate in Staffordshire, HMP Wymott, HMP Birmingham, HMP Liverpool, HMP Hewell, and HMP Risley in Cheshire, the court heard.
The drone operator, Brandon Smith, 24, of Kingstanding Road, Tipton, has already admitted his part in the conspiracy, the jury has been told.
Jurors were also told they would hear telephone evidence which suggested Mr Anslow was "organising drone deliveries throughout numerous prisons" and that he was linked to jails and inmates in the case.
Michelle Heeley, prosecuting, said parcels of contraband worth up to £20,000 a time at prison prices were tied to the drone by a length of weighted fishing line and delivered to cell windows.
They were recovered using a hook and then sold on the inside.
In April 2017, a drone was seized from a Vauxhall Corsa parked in a lane near HMP Hewell, and its microchip showed it had made eight flights to the jail near Redditch, the court heard.
Ms Deakin, Mr Hadlington's girlfriend, was stopped in a car carrying a drone after a package was delivered to HMP Wymott, Lancashire, where her partner was serving time.
Related Internet Links
The BBC is not responsible for the content of external sites.