Is 'Brazilian butt lift' surgery a risk worth taking?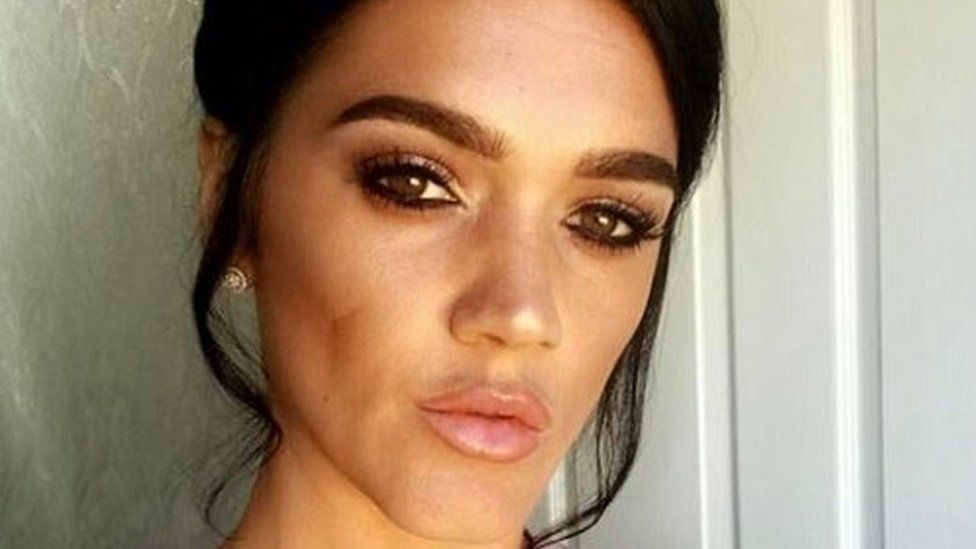 A mother of three died during "Brazilian butt lift" surgery in Turkey when a fat clot blocked one of her arteries, an inquest has found. Why is this procedure increasingly popular and is it more dangerous to have the operation abroad?
Leah Cambridge, from Leeds, suffered a massive pulmonary embolism during the operation at a private hospital in Izmir in 2018, a coroner found.
The 29-year-old beautician was undergoing a Brazilian Butt Lift (BBL) where fat from the stomach is injected into the buttocks.
Ms Cambridge had opted for surgery abroad - which is often cheaper than in the UK - after growing paranoid about excess stomach fat after having children, her partner Mr Franks said.
Her neighbours have described her as "absolutely stunning", adding that they believed she had gone to have the treatment against her partner's wishes.
And Ms Cambridge is not the first British woman whose quest for the perfect behind ended in tragedy abroad.
The BBL procedure is not considered to be any more dangerous than many other types of cosmetic surgery, according to consultant plastic surgeon Bryan Mayou.
"The danger is the surgery being performed by unqualified surgeons outside a clinical setting without appropriate aftercare," says Mr Mayou, a member of the British Association of Aesthetic Plastic Surgeons.
"If fat is injected deep into muscle tissue and lower down on the buttocks, there is a risk of incorrectly injecting fat into large veins.
"The fat, now an embolus, can pass around the bloodstream, into the lungs and cause death."
Mr Franks, 31, told The Sun: "Leah was under anaesthetic and complications happened due to fat getting deposited in her bloodstream and her oxygen levels fell.
"She was brought back to stable but had three heart attacks and there was nothing they could do."
Plastic surgeons from international societies have set up a taskforce to monitor and report on the BBL procedure, says Mr Mayou.
The death rate following the procedure was found to be 1 in 3,000 and all the fatal cases investigated featured fat emboli being found in the buttock muscle, he says.
The surgeon says he has noticed a rise in the number of bottom-boosting operations at his Cadogan Clinic in Chelsea, west London, in the past four years.
"It's a current fad," he explains. "Years ago everyone wanted to be smaller and they would be saying 'can we have liposuction to make [my bottom] smaller?'"
And that is the technique that would be used if the "bubble butt" goes out of fashion and BBL patients want the procedure reversed, he says.
So why the obsession with having a bigger behind? For Mr Mayou, it's down to popular culture celebrating curvier physiques.
"We live in an ethnically diverse world and there is an appreciation of different body shapes from our own, and then these techniques become available that make these shapes achievable."
Celebrities like Kim Kardashian, Kylie Jenner and Cardi B have huge followings on social media where they regularly post photographs flaunting their rounded posteriors.
Jenner posted a video on her blog in which she attributed her curves to weight gain: "[I haven't had] ass implants. You know, I used to be 120 [lbs]. I was really skinny. Now I'm pushing like 136. But it's alright, I like the chunkiness."
However, Cardi B has revealed that before she broke on to the music scene she had filler injected into her buttocks in a basement in New York - and the silicone leaked for five days afterwards.
In an interview with GQ, she said she paid $800 (£564) for the procedure after seeing her stripper colleagues with bigger bottoms earning more than her.
Chloe Simms, a star of reality soap The Only Way Is Essex, has been open about the bum-boosting cosmetic surgery she's had, having complained on the show that she had "the flattest bum in Essex".
This Instagram post from 2013 shows her slim silhouette.
While she appears much more curvaceous in this swimwear shot from July 2018.
And as Mr Mayou points out, BBL surgery can be a particularly attractive idea for some women as it's seen as being able to solve two body hang-ups in one go.
"For a lot of people you are really getting two benefits from one operation - removing fat from somewhere they don't want it and putting it somewhere they do," he says.
In terms of cost, cosmetic surgery is cheaper in countries like Turkey than in the UK, Mr Mayou says.
What does buttock augmentation surgery involve?
The procedure is used to make buttocks bigger, more rounded or lifted
Surgeons may insert silicone-filled implants and/or inject fat transferred from other parts of the body
In the UK it tends to cost between £2,000 and £7,000, depending on the clinic and whether additional work is needed
After surgery, patients are likely to have some pain, bruising and discomfort over the area of the implant for a few weeks and are advised not to sit on their buttocks directly for three weeks
Complications can include wound infection, rupture of prosthetic implants and fat embolus, where fat can enter the bloodstream and block vessels
He estimates a BBL procedure would cost about £8,000 in the UK. Some reports state Ms Cambridge paid as little as £3,000 for her surgery.
"But we have people travelling from abroad to our clinics in London because our surgeons are qualified, regulated - our clinics are safe - so it's a two-way thing," he says.
"I think people are being enticed by heavy marketing; it's all in a foreign language and they have no way of checking if the surgeons are safe," Mr Mayou adds.
"It's a commercial enterprise and they are not going to turn down people. They will do everyone whether they are suitable for the operation or not.
"By making the decision to undergo cut-price surgery, patients risk serious complications and even - as this tragic story illustrates - death."
An earlier version of this story was published on 4 September 2018.
Related Internet Links
The BBC is not responsible for the content of external sites.