'Bed-blocking' patient Adriano Guedes dies in hospital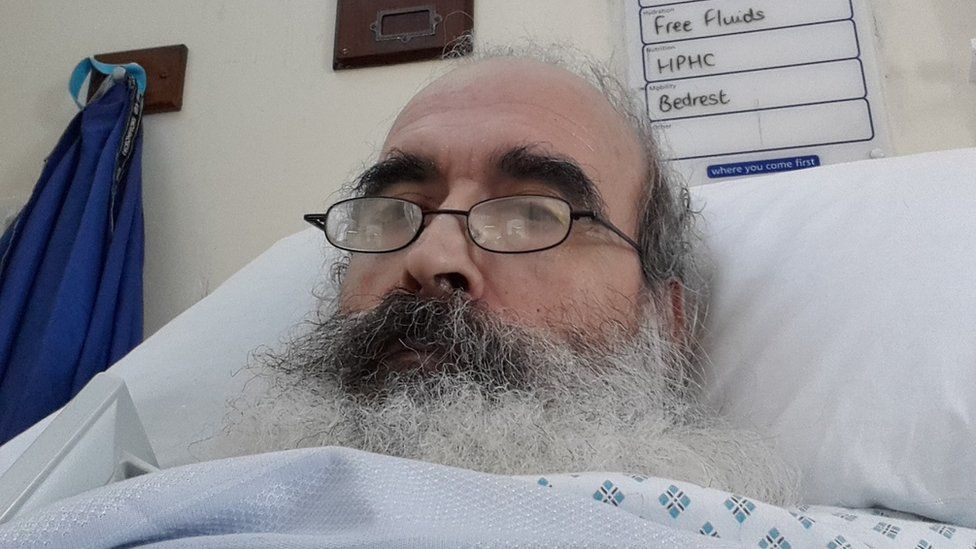 A patient who was evicted from hospital after refusing to leave his bed for more than two years has died while back on the ward.
Adriano Guedes, 65, was admitted to the James Paget University Hospital in Gorleston, Norfolk, in August 2014, and stayed for 862 days.
Mr Guedes' daughter Tania confirmed he died in hospital at the weekend.
Efforts would now be made to repatriate his body to his native Portugal, she told the BBC.
Mr Guedes made headlines in 2017 after it was revealed he had refused to leave hospital in a protest over his treatment and living conditions.
The former union official, who was paraplegic after a spinal stroke in 2008 which he blamed on an operation, continued his protest from a council-approved flat in Suffolk and had been on partial hunger strike, refusing a mental health assessment and accepting only minimal care.
It is understood he had been on hunger strike at the time of his death.
Waveney District Council (WDC) had offered to adapt his home in Kessingland, and Suffolk County Council had supplied a specialist wheelchair and bed.
A friend who visited him regularly paid tribute to his "significant strength of character" and said they had hoped he would "make a decision to accept care and support to enable him to reconnect with his family and the wider community."
Mr Guedes came to Suffolk from Portugal 15 years ago.
Last year he told the BBC: "I am sick of having the authorities deciding where I should live, when I should eat, how much I eat."
A spokesman for WDC said: "Working with healthcare providers and other agencies, we did everything we possibly could to support Mr Guedes and we are very saddened to learn of his passing.
"Our thoughts are with his family."
Related Internet Links
The BBC is not responsible for the content of external sites.