Child arrests in England fall by two thirds since 2010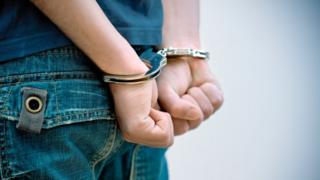 Child arrests in England have fallen by more than 157,000 between 2010 and 2017, official figures have shown.
Research by the Howard League for Penal Reform charity showed about 74,000 children were arrested last year compared to about 232,000 in 2010, a fall of two thirds.
West Mercia Police recorded the biggest reduction of 85% from 5,491 to 805.
The charity said it had worked with police forces to keep children out of the criminal justice system.
West Mercia, Avon and Somerset, and Lancashire topped the list of English forces with the largest reduction, according to responses to Freedom of Information requests sent by the Howard League.
Cheshire Police recorded the smallest drop in the country - from 1,870 in 2010 to 1,025 last year, a fall of 49%.
'Brighter future'
In 2010, the Howard League launched a programme to reduce child arrests in order to limit the number entering the criminal justice system which it said helps to prevent crime.
Its research found that recorded arrests of girls - of which there were 12,495 last year - had fallen at a faster rate than for boys since 2010.
The charity said there had been a "tangible change" in police culture.
Chief executive Frances Crook said: "It is a phenomenal achievement by the police and the Howard League.
"It means that tens of thousands of children will have a brighter future without their life chances being blighted by unnecessary police contact and criminal records.
"We have come a long way, but there is still more work to do."
The age of criminal responsibility in England and Wales is 10 years old.