'Perfect visibility' at time of fatal M6 crash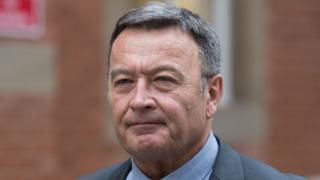 A lorry driver killed five people by causing a crash after failing to spot a car with its hazard lights on, despite having "perfect visibility", a court was told.
Zbigniew Grzabel, 61, from Tipton, West Midlands, smashed his Mercedes HGV into a Nissan Micra near junction 14 of the M6 early on 24 May 2017, jurors heard.
The prosecution said he "did not appear to react to the presence" of the car.
Mr Grzabel denies five counts of causing death by dangerous driving.
Four women and a man, all Romanian fruit pickers, died in the crash between junction 15 and 14 on the southbound carriageway.
The prosecution said witnesses saw "a shower of sparks" after the Polish national failed to see the car, which was experiencing mechanical issues.
In an interview with police, Mr Grzabel said he had slept well, his visibility was good and he had tried to brake.
'Light' traffic
Prosecutor Andrew Smith QC said: "The defendant's explanation is inadequate and fails to address important aspects of the evidence."
He told Stafford Crown Court: "Zbigniew Grzabel failed to see the Nissan Micra was in front of him until he was a very short distance away.
"Visibility was perfect as you might expect at 04:00 in the morning and traffic was light."
Among the victims were driver Marius Zevian, 45, Cucoana Zevian, 49, Gheorghita Radu, 56, Nicoleta-Marinela Florea, 42, and Marcela Sandu, 34.
The other passenger, Aurel Sandu, who was 37 at the time, suffered multiple injuries.
They had been travelling from Stoke-on-Trent.
Mr Grzabel, of Glebefields Road, Tipton, smashed his HGV into a Nissan Micra at about 04:20 BST, jurors heard.
He also denies one count of causing serious injury by dangerous driving.
The trial continues.