Asian hornet sightings confirmed in Liskeard and Hull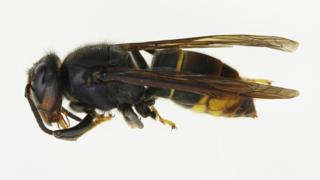 Sightings of the honey bee-killing Asian hornet have been confirmed in Cornwall and East Yorkshire.
Work is under way to identify any nests in Liskeard and Hull, the Department for Environment, Food and Rural Affairs (Defra) said.
The Asian hornet is smaller than the native hornet and poses no risk to human health, but does pose a risk to honey bees.
Inspectors are monitoring areas around the sightings.
Nicola Spence, Defra deputy director for plant and bee health, said: "These sightings in Liskeard and Hull underline the need to remain vigilant.
"I want to encourage people to look out for any Asian hornet nests and if you think you've spotted one, please report your sighting through the Asian hornet app or online."
The hornets feed by hovering in front of bee hives. They intercept returning bees, bite their heads off and then eat the rest.
The species was first seen in Britain in Gloucestershire in 2016, but there were further sightings in Woolacombe, Devon, in 2017.
Last week a nest was removed following a sighting in the Fowey area of south Cornwall.
In April, a single hornet was found in Lancashire.
They have also been spotted in Jersey, Guernsey, Alderney and Sark in the Channel Islands.