Travel disruption as freight train derails near Coleshill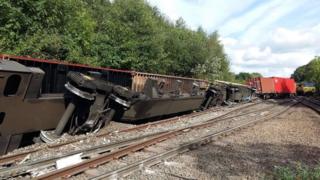 A derailed freight train is causing travel disruption in the West Midlands.
Delays to lines between Birmingham New Street and Nuneaton are set to last until the end of service on Friday, according to National Rail.
British Transport Police (BTP) said a number of wagons had overturned at a low speed, blocking the line between Coleshill Parkway and Nuneaton.
No injuries have been reported. Passengers have been advised to check train schedules before they travel.
The Rail Accident Investigation Branch has been notified about the derailing, which occurred on Wednesday at about 15:00 BST, BTP said.
National Rail said bus replacement services were running and it "anticipates disruption will continue until the end of service" on Friday.