Freedom of Dudley Borough for RAF Cosford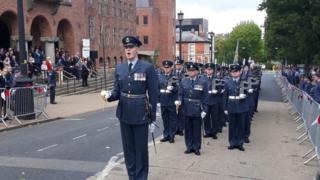 More than 60 personnel from RAF Cosford have marched through Dudley after being awarded the freedom of the borough.
The event also marked the Battle of Britain - the 1940 aerial battle seen as a turning point in World War Two.
Group Captain Tone Baker, station commander at RAF Cosford, said it was an honour to receive the award during the RAF's centenary year.
He said he was a Dudley man himself, joining the RAF in 1989 and being stationed at Cosford, Shropshire.
"To be in a position almost 30 years later to forge even closer links between my hometown and the station where my RAF career began is a source of immense personal pride," he said.
"I know that the men and women of RAF Cosford also take great pride in the strong relationship between the station and the heart of the Black Country."
RAF Cosford opened in 1939 and operates as a training centre for the armed forces as well as hosting a museum and an annual air show.