Child vaccination numbers fall in England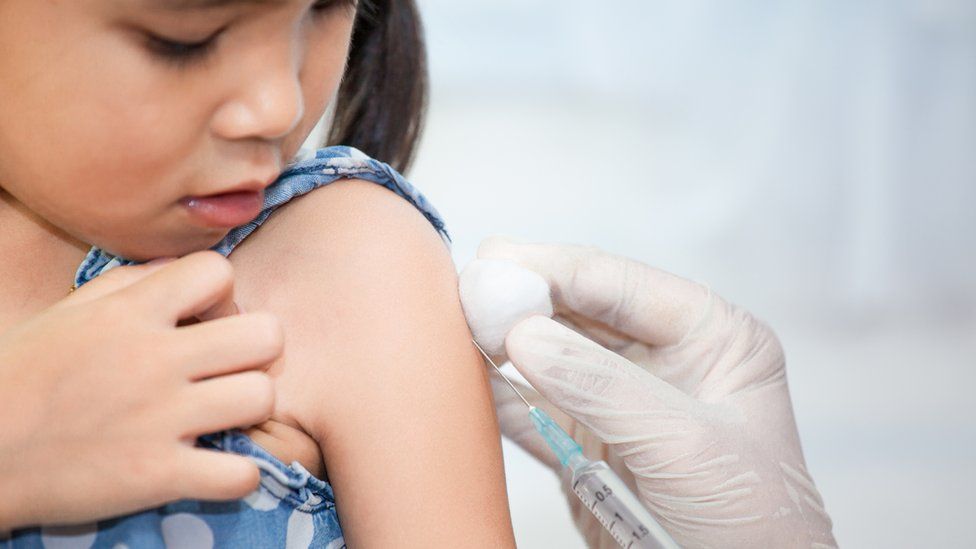 Fewer children are being vaccinated against potentially fatal illnesses, new figures show.
NHS data shows the proportion of two year olds immunised against measles, mumps and rubella (MMR) fell for the fourth year in a row in 2017-18.
Nurses warn the slight decline risks "turning back the clock" by leaving children "unprotected".
Public Health England says the country is a "world leader" in childhood vaccination despite the "small" drop.
Just over nine in 10 (91.2%) of two year olds had had the MMR in 2017-18, down from 92.3% in 2012-13.
The number of children receiving the five in one vaccine (DTaP/IPV/Hib) also fell to 95.1% of children, the lowest rate since 2008.
The single injection protects against diphtheria, tetanus, whooping cough, polio Hib (Haemophilus influenzae type b). Children are now offered the six-in-one vaccine which also protects against hepatitis B.
Helen Donovan, professional lead for public health at the Royal College of Nursing, said: "For the first time last year, Britain was declared free of endemic measles, but these figures show we are turning the clock back and leaving thousands of children unprotected.
"Coverage declined in nine out of 12 of the routine vaccination measures compared to last year.
"This means immunity against deadly or life-changing diseases such as tetanus, diphtheria and polio is dropping. These were diseases of the past - they should not be part of our future."
The NHS says vaccines work by making people produce antibodies to fight disease without actually infecting them with it.
It says the immune system of a vaccinated person who comes into contact with the disease will recognise it, and immediately produce the antibodies to fight it.
According to the health service:
Vaccinations are "quick, safe and extremely effective"
Children who have been vaccinated against a disease can fight it off better
If a child is not vaccinated, they are at higher risk of catching - and becoming very ill from - the illness.
Dr Michael Edelstein, from Public Health England, said children should be immunised to get "the best protection".
Mr Edelstein said, despite "small reductions" in "most childhood vaccines" England had a "comprehensive" vaccination programme.
However, one parent, Juliette Bryant, told the BBC she did not want her children to be "guinea pigs" and chose not to vaccinate them.
The mother of three, from Suffolk, said: "I am not anti vaccination, I just don't believe they are safe enough."
The NHS says vaccines have to be "thoroughly tested" for safety before they are made routinely available.
A regional breakdown showed London had the lowest proportion of children vaccinated for MMR, with 85.14% coverage by age two, while the North East of England scored highest with 94.53%.
You may also be interested in:
Jonathan Ball, professor of molecular virology at the University of Nottingham, said it was important "to try to understand why people are not getting their children vaccinated so that measures can be put in place to overcome these barriers".
"If uptake continues to decline then we will see increasing numbers of outbreaks and with them, inevitably serious illness and possible death," he said.
Related Internet Links
The BBC is not responsible for the content of external sites.