Antonine and Hadrian's walls get £2m lottery boost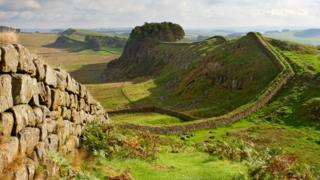 Two Roman walls - both World Heritage Sites - are to benefit from £2m of lottery funding.
The money will help train a "volunteer army" to survey and carry out repairs to Hadrian's Wall in northern England.
There will be a campaign to locate its missing stones, taken during the past 1,500 years to build local houses, farms, field walls, and churches.
The funding will also be used to "address the lack of awareness" about the Antonine Wall in central Scotland.
Stretching 37 miles (60km) between the firths of Forth and Clyde, the Antonine Wall briefly marked the northernmost point of the Roman Empire.
The £980,600 of lottery cash will be spent on a programme of 30 community-designed projects across the five local authorities it passes through.
A number of locations along the 89-mile (135km) Hadrian's Wall are at risk of damage from severe weather, tourism and invasive plant species.
Using the grant of £1.17m, experts at Newcastle University will work with community volunteers who will be trained in skills such as digital surveying to understand more about its condition, as well as conservation and work to help prevent further deterioration.
Ros Kerslake, from the Heritage Lottery Fund, said: "What were once built as barriers will now bring communities together to explore and celebrate their shared heritage.
"The legacy of the initiatives announced today will be that these internationally-important ancient monuments, and the fascinating history they tell, will be better understood and cared for by their communities well into the future."