East Surrey Hospital cancer patient 'not told about procedure'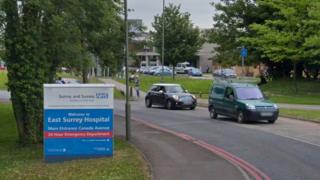 An inquest into the deaths of 10 cancer patients has heard a doctor failed to tell one man that three specialists had recommended removing his bladder.
Consultant urologist Paul Miller was sacked in 2014 by East Surrey Hospital over the treatment he provided.
The inquest heard Graham Stoten was relieved he did not need a cystectomy - an operation to remove his bladder.
However, Mr Miller admitted he had failed to tell Mr Stoten that three teams had recommended the procedure.
The inquest heard Mr Miller offered photodynamic therapy over conventional treatment. Mr Stoten died in 2015.
Clodagh Bradley QC, representing his widow Debbie, put it to Mr Miller that the Stotens were unaware the multi-disciplinary teams had recommended the bladder removal procedure.
Mr Miller replied it was impossible to answer and there had been a lot of people in the room, adding: "I do not see the point of going back and raising the alarm bells about cystectomy again when we haven't even got the information...we're looking for."
Ms Bradley asked: "So is your answer to my question, no you did not?"
Mr Miller replied: "No I did not." He insisted Mr Stoten was aware of the risks and benefits of having his bladder removed.
The 10 patients who died
Alan Burgess, 72, of Crawley, died in 2014
Frederick Le Vallois, 71, of Crawley, died in 2006
Graham Stoten, 57, of Reigate, died in 2015
Jose Cressy, 76, of Reigate, died in 2011
Keith Reynolds, 68, of Crawley, died in 2012
Leslie Owers, 75, of Crawley, died in 2012
Lilian Cole, 82, of Crawley, died in 2010
Martin Turner, 86, of South Godstone, died in 2008
Renfried Avery, 80, of Worthing, died in 2012
Ian Spurgeon, 85, of Oxted, died in 2014
The inquest heard that when Mr Miller was suspended from his post, he had phoned the couple to vent his anger.
Ms Bradley said: "Do you accept that you reacted to this event of your suspension by telephoning the Stotens at a point in time that they were in the early stages of their diagnosis of a terminal stage of Mr Stoten's cancer?"
But Mr Miller replied: "I didn't know that."
The inquest continues.