'Horrific smell' halts construction near Olympic Park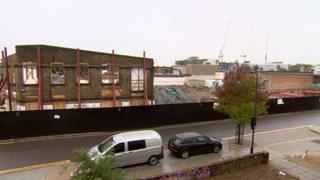 Work at a building site near London's Olympic Park has stopped after complaints about "horrendous" smells.
Nearby Mossbourne Academy said its students felt sick and local residents spoke of headaches because of smells coming from the site in Hackney Wick.
The London Legacy Development Corporation (LLDC) told Telford Homes to stop work last month until a new plan to "manage the site" was approved.
The LLDC and Telford Homes claimed there was no health risk.
Telford Homes announced in April 2017 it would be redeveloping the site called Stone Studios on Wallis Road to provide 110 new homes.
Resident Alexandra Shipp told the Local Democracy Reporting Service: "Since September, the smells coming out of the Telford Homes site were horrific.
"Children and parents were complaining of headaches, and it was unmanageable."
Peter Hughes, Mossbourne Academy's principal, said: "The smell was horrendous and children were starting to feel sick.
"The conversation we had with Telford Homes was: 'Is it going to stop or do we have to shut the school?'.
"Young lungs are very different to older lungs with less resistance, so we need to know that any future works if they are to continue are going to be carried out in a safe way."
Parent Lenalisa Fornberg said: "There was a day when the wind was blowing straight over to the school when the kids weren't allowed to play outside."
Hackney Council confirmed the smells are caused by the site's "hydrocarbon contamination, including benzene and naphthalene".
Benzene is a carcinogen and naphthalene is "possibly carcinogenic", according to the International Agency for Research on Cancer.
The council said it was "very concerned" and encouraged the LLDC to seek advice from Public Health England.
The LLDC said it "imposed strict planning conditions to manage the safe removal of contaminated land" from the site.
A spokesperson for the body added: "While there is no threat to public health, we do appreciate local people's concerns.
"We are reviewing the developer's revised plans to manage the site works and work to remove the contaminated materials can only begin once those plans have been approved."
Telford Homes said it would "only restart work once the enhanced control measures have been agreed" and it has "agreed to install an air quality monitor at Mossbourne Academy to monitor the air for odours".