Tory MP Craig Mackinlay 'overspent on election to win seat'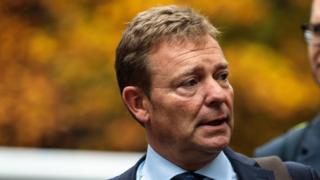 The election of Conservative MP Craig Mackinlay to Parliament could have been declared void after he overspent on his campaign, a court has heard.
The South Thanet MP needed to win in the 2015 general election to defeat the then UKIP leader Nigel Farage, prosecutor Aftab Jafferjee QC said.
He told Southwark Crown Court: "Proper regard to the limits of expenditure imposed by law was simply abandoned."
Mr Mackinlay, and two other defendants, deny making false expenditure returns.
Mr Mackinlay, 52, from Ramsgate, Kent, is accused of two charges of making a false election expenses declaration under the Representation of the People Act 1983.
His election agent Nathan Gray, 29, from Hawkhurst, Kent, is accused of one charge of making a false election expenses declaration and a further charge of using a false instrument under the Forgery and Counterfeiting Act 1981.
Party activist Marion Little, 63, from Ware, Hertfordshire, is accused of three counts of intentionally encouraging or assisting an offence under the Serious Crime Act 2007.
Their trial has heard that during the general election campaign, the Conservatives put in extra resources to win the seat in South Thanet on 7 May in a "two-horse race" with Nigel Farage.
Declared spending on the campaign came in under the strict £52,000 limit set for the Kent constituency, but prosecutors allege up to a further £66,600 was not declared.
Mr Jafferjee told jurors on Wednesday: "This was a very important seat for the Conservative Party to win and Mr Mackinlay had to be elected.
"In seeking to ensure the success of the Conservative Party's candidate and the defeat of Nigel Farage, we submit that proper regard to the limits of expenditure imposed by law was simply abandoned.
"Each of these three defendants were complicit in the means deployed to achieve that end.
"Had the true position been declared, Craig Mackinlay's election would have been at the risk of being declared void."
Mr Mackinlay, an accountant by profession, was elected to Parliament for the first time after he won the seat with a majority of about 2,800 in an electorate of 70,000.
The court heard the defendants were warned about the risk of overspending as early as February 2015 by Tory activist Anthony Salter, who was the voluntary chairman of the local Conservative campaign team.
'Not breaking law'
In an email to Ms Little ahead of a meeting with her, he said £50,000 had been raised for Mr Mackinlay's campaign, adding: "For once money is the least of our worries, although Farage will undoubtedly outspend us and Labour will have more boots on the ground."
In another email to all three defendants a day later, Mr Salter warned: "We're getting perilously close to hitting our legal limits, both for the long and short campaign."
Mr Salter told jurors the spending limits were "pretty tight and I was conscious, almost to the point of obsession, that we didn't go above these legal limits - of not breaking the law."
He also said he had had reservations over Mr Gray's role as the election agent as he did not consider he had "the appropriate training, skills and expertise".
The trial continues.