Summer baby school delays: Parents face postcode lottery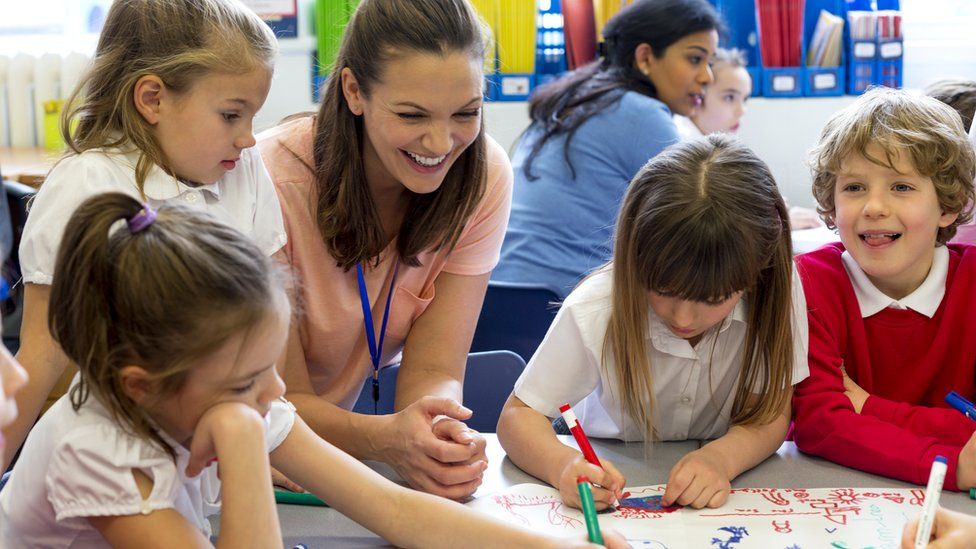 Parents who want to delay their child's first year of school have varying success rates depending on where they live, a BBC investigation has found.
Thousands of families in England with summer-born babies are applying each year amid fears younger children do not perform as well as older classmates.
But while some councils have approved 100% of requests, others have turned down more than half.
Campaigners said a consistent approach was needed across the country.
Children have traditionally been placed in school years according to their date of birth with a cut-off at the start of September. This has meant some children born in the summer have been almost a year younger than their eldest classmates when they start in reception.
But parents of children born between 1 April and 31 August are now able to apply to put reception back a year.
Figures supplied under the Freedom of Information Act show 2,243 requests were made to 110 local authorities in England to defer starts to the 2018 school year - 18% higher than the previous 12 months.
But the rate of requests and their success rates varied considerably across England.
Over a three-year period, Medway turned down 13 out of 17 applications and Wokingham rejected 12 out of 20. Nottingham and Manchester also both rejected more than half of the requests made.
A third of councils who responded did not refuse any requests. These included Northamptonshire, which received 142 applications since 2016 and did not turn down any of them.
Nottinghamshire, Liverpool, Wandsworth, York, Merton, Isle of Wight, Cheshire East, Cumbria and Shropshire were also among those with a 0% rejection rate.
'They are messing with kids' lives'
Jennie Blake, from Manchester, applied to Manchester City Council to request a delay in her son Nikolai starting school in September 2017, as his birthday was in May and she thought he was too young to start school.
But after being turned down by the authority, the 38-year-old said her son later needed extra help at school because of his age.
"It would be so different if my son was under Cheshire East 20 minutes down the road, or in Liverpool," Ms Blake said.
She said the council, which has rejected more than half of the requests made over three years, was "messing with children's lives".
Ms Blake said she was now preparing the case to have her second child, now aged two, defer a year as they were born on 20 August.
Manchester council's schools chief Councillor Luthfur Rahman, said the authority made decisions "on the merits of each individual case".
"After carefully considering Ms Blake's request, with input from Nikolai's nursery being sought, we were confident that the school could meet Nikolai's needs while educating him within his peer group."
In a survey in 2017 of 161 families who successfully applied to delay the start of their child's schooling, the DfE found 47% had a household income of more than £50,000 a year.
You may also be interested in
Of the 110 councils that responded to the BBC with comparable data, Haringey in London had the most requests with almost 18 for every 1,000 pupils for 2018, while in Devon there were about 15 requests per 1,000 pupils.
Other areas received few applications - Doncaster only saw two across three years, while Rochdale said it had not received any requests at the time of responding.
While the School Admissions Code requires councils to provide schooling for all children in the September following their fourth birthday, a child does not reach compulsory school age until the term after their fifth birthday.
Julie McCulloch, director of policy at the Association of School and College Leaders, said: "Some have a policy of automatically agreeing all requests, while others only agree requests where parents present very strong evidence.
"We think there should be a consistent approach across the country."
Dr Claire Crawford, from the University of Birmingham, has researched the attainment of summer-born children at school.
She said: "We found it [the attainment gap] was very large at the beginning of schooling as you might expect when the children are less mature, and the one year difference is a much bigger proportion of their lives."
She added: "Some parents may be more able to apply to defer their child or have access to the research than others."
You may also be interested in
The Summer Born Campaign has called on the DfE to make it easier for summer-born children to start reception when at compulsory school age.
Spokeswoman Rosie Dutton said: "It has been over three years since that letter was released by Nick Gibb, and in those three years many children have been forced to miss reception or start school before their parents wanted them to.
"We really need this legislation published quickly."
A DfE spokesman said: "We have given councils clear advice on how to support parents who want to delay their child's admission to reception until compulsory school age so that families can make the right choice for their child."
He added research released in May suggested the majority of requests for delayed admissions were being agreed in line with parents' wishes.
Related Internet Links
The BBC is not responsible for the content of external sites.