Taxi licences issued to convicted criminals in private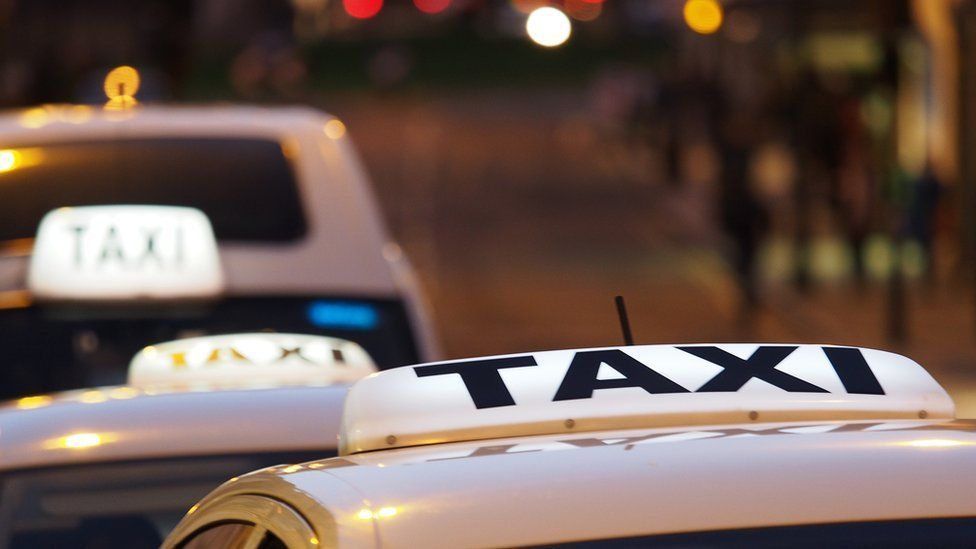 Taxi licences are being issued behind closed doors to drivers convicted of offences including child sex crimes and reckless driving, the Local Democracy Reporting Service has revealed.
The findings follow a government report that claims current taxi and private hire laws are "not fit for the modern world".
According to the report, rules need tightening on everything from CCTV use in taxis to criminal record checks.
Some existing laws date back to 1847.
In most areas licences for taxis and private hire vehicles - or minicabs - are issued by unitary, borough or district councils. In London the system is managed by Transport for London.
The Bolton News also reported that licensing chiefs let a taxi driver off with a warning - also in private - after he was convicted of driving without due care and attention and failing to stop after an accident.
As the licensing authority, many councils hold the hearings in private under local government rules about protecting personal information.
They have to decide if someone is "fit and proper" before granting a taxi or private hire licence. Although guidance has been published by the government and Local Government Association there are no legal rules on how to determine a "fit and proper person".
Steve McNamara, general secretary of the Licensed Taxi Drivers' Association (LTDA), said the industry "urgently needs" new laws with strict standards, a national database of drivers and operators, and an end to "cross-border" hiring that sees drivers working outside the area where they are licensed.
He added: "These drivers clearly fail to meet the 'fit and proper person' test and should never have been in a position to drive members of the public. The current flawed system is being exploited by unscrupulous private hire drivers and operators who disregard regulations to work wherever and however they want.
"The outdated system must be overhauled to give passengers confidence that they will be safe whenever they step into a taxi or minicab."
Donna Short, director of the National Private Hire and Taxi Association, said there was "nothing sinister" about the private meetings.
She said they simply showed councils following their data protection protocols, but added a national driver database would help reduce the number of licences being given to convicted criminals.
A voluntary scheme run by the Local Government Association lets licensing departments check for drivers who have had licences revoked elsewhere, Mrs Short said, and was a good interim measure.
The group's chairman, Prof Mohammed Abdel-Haq, called the current situation "inconsistent, ineffective and incompatible with the protection of vulnerable people" and said the government needed to act quickly to avoid putting public safety at risk.
The report's 34 recommendations also included:
The ability to take action against "out-of-area" drivers - those licensed by another council
New guidance on which convictions should be seen as grounds for refusing or revoking a licence
A major rule change to make sure drivers either start or finish each journey in the area that licenses them
A national database so councils can check if drivers have had licenses refused or revoked elsewhere
English language checks for drivers
A "cap" on the number of taxi and private hire licences in each council area
'Worrying patterns of behaviour'
Personal safety charity the Suzy Lamplugh Trust has done its own research into the taxi and private hire trade.
The charity's Saskia Garner, who was part of the task group, said it found inconsistencies in how councils dealt with convictions and "worrying patterns of behaviour" by drivers.
"Although taxi and private hire drivers hold a position of trust, transporting passengers who are often alone and in a locked vehicle, the highest level of criminal checks is not required in law - only recommended in guidelines," she said.
"Passengers are therefore being left at risk."
Most drivers did not pose a personal safety risk to passengers, she added, but they were being let down by a minority slipping through the net.
The Department for Transport said it was considering the report and would be responding "in due course".
It added: "Taxis and private hire vehicles provide a vital community service helping people get to the shops, see their friends or go to work and school.
"But they need to ensure the safety of their passengers is paramount, especially when transporting the most vulnerable in society."
A Private Member's Bill that would have brought in some of those changes was "talked out" of the Commons earlier this year, but could be discussed again this week.
Daniel Zeichner, the MP behind that bill, backed the new report and said he hoped it was a "catalyst for action that is so badly needed".
Related Internet Links
The BBC is not responsible for the content of external sites.