Fracking: Councils oppose 'exploratory' drilling plans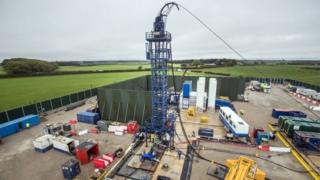 A proposal to allow "exploratory" shale gas drilling to go ahead without planning permission has been opposed by a number of councils.
Concerns were voiced in a consultation over whether to allow exploration under "permitted development" rules, the same rules that cover small conservatories.
Lancashire, Bolton, Brighton and Surrey are among the councils who have opposed the proposed change.
In Bury, the proposals have been branded an "affront to democracy".
Fracking restarted at Little Plumpton, Lancashire, in mid-October but has since been halted three times because of earth tremors that exceeded guidelines.
It was the first time fracking had been permitted in the UK since 2011, when a series of earthquakes were linked to the drilling at a site near Blackpool.
The potential planning changes were outlined in a Ministry of Housing, Communities and Local Government consultation that closed in October.
Lancashire County Council cabinet member for environment, Michael Green, has warned changing the rules could damage public trust.
He said: "The planning process can be argued sometimes to stifle or delay development, but we consider that the proposal… risks undermining public confidence in the ability of the planning system to control development."
Further evidence gathered by Local Democracy Reporters shows that:
---
Fighting fracking
Nursery manager Tracey Lund has been fighting fracking plans in the Derbyshire town of Eckington for two years.
Derbyshire County Council rejected a bid for exploratory mining in February but the application was granted in August following an appeal.
The process has taken its toll both "physically and emotionally", Mrs Lund said.
She added: "I've been in tears, and whilst campaigning I've been thrown to the floor by the police and threatened with legal action, all because I've stood up against the idea that my local community could be destroyed by the fracking industry.
"The idea that fracking applications would be given permitted development status would just take local democracy away from us. I'm very angry because they shouldn't be allowed to take decisions on fracking out of local people's hands".
---
When ministers first proposed the changes to planning rules, they said the government said it wanted to make fracking easier by smoothing the path for the early stages.
Energy minister Claire Perry said it would allow exploration to happen in an "environmentally responsible way".
At the end of October, planning minister Kit Malthouse told the Commons the government was "fully committed" to making sure communities were fully involved in planning decisions, and to making planning decisions "faster and fairer".
He also said permitted development rules would not take away other regulations fracking companies faced - from the Environment Agency, the Health and Safety Executive and the Oil and Gas Authority.
If the proposals were approved companies would still need full planning permission to move on to fracking and gas extraction, but councils such as Lancashire have said the exploration stage itself could bring "significant local impacts" such as heavy traffic, noise and light pollution.
It would be difficult to block a full planning application once exploration was under way and those impacts had been felt, the council warned.
A separate consultation is looking at large fracking applications under the Nationally Significant Infrastructure Projects regime, which sees the government rather than local councils deal with plans for major developments such as new motorways - but Mr Malthouse said community engagement was still "fundamental" to that process.
A spokesman said the Ministry of Housing, Communities and Local Government was considering feedback on both before publishing its own response.
Ministers have also committed to a further consultation on how developers should talk to communities before submitting shale gas planning applications, they added.
National park fears
National Parks, Areas of Outstanding Natural Beauty and scheduled ancient monuments would all be exempt from the permitted development plans but bosses at the North York Moors National Park have still objected.
They said they were worried about permitted development for exploratory drilling at sites just outside park boundaries, and what would happen if the exclusion were scrapped.
A well site at Kirby Misperton in North Yorkshire is less than 10 miles from the national park's boundary, and has been a focus of anti-fracking protests. North Yorkshire County Council's own response to the consultation said shale gas exploration was so complicated it needed "robust, open and transparent scrutiny" that could only come through a formal planning application, not permitted development.
East Riding of Yorkshire councillors have said permitted development should not be introduced for exploration or any other stage of the fracking process.
More about this story
This story was based on the work of the Local Democracy Reporting Service [LDRS], a public service news agency.
The LDRS is funded by the BBC, provided by the local news sector and used by qualifying partners as part of a partnership between the BBC and the News Media Association.
For more information, click here.