Megan Lee: Pair guilty of girl's takeaway allergy death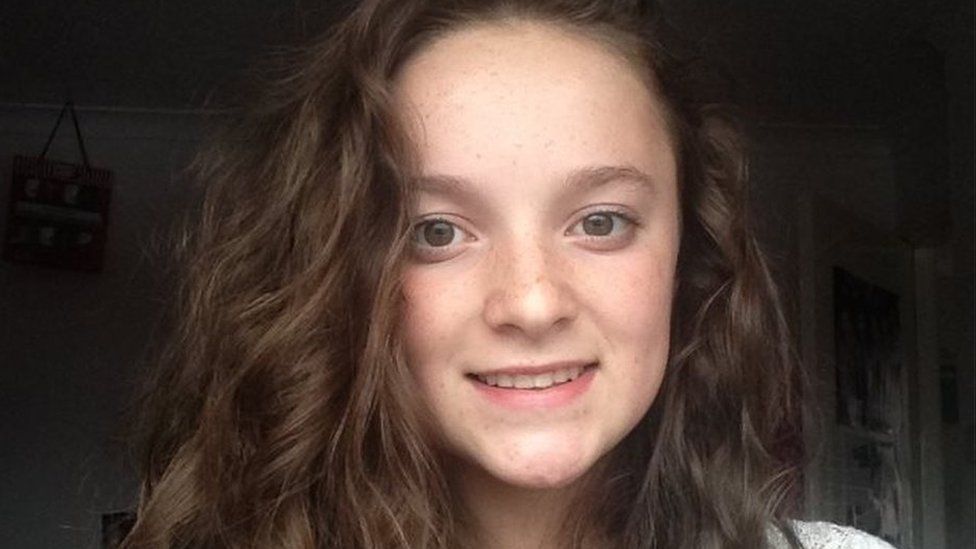 Two men have been found guilty of the manslaughter of a 15-year-old girl who suffered an allergic reaction to a takeaway meal.
Owner Mohammed Abdul Kuddus, 40, and Harun Rashid, 38, denied manslaughter by gross negligence.
After the verdicts, Megan's father Adam warned takeaway owners: "Do not play Russian roulette with precious lives."
Manchester Crown Court previously heard the teenager suffered an acute asthma attack after eating food from the takeaway on 30 December 2016, which her friend had ordered with a note reading "prawns, nuts" to show her allergies.
She died two days later having suffered irreversible brain damage.
Judge Mrs Justice Yip released Kuddus and Rashid on bail to return for sentencing on 7 November.
The judge said: "The fact that I am granting bail should not be taken as an indication that there will be a non-custodial sentence.
"You need to prepare yourselves for a custodial sentence but I am allowing you to go home for now."
During the trial Peter Wright QC, prosecuting, described Megan's death as a "disaster waiting to happen" because of a "litany of failings" in the kitchen, including poor hygiene and no records of ingredients kept.
The meal, which included an onion bhaji, a seekh kebab and a Peshwari naan, was later found to have the "widespread presence" of peanut protein.
Following her death a police inquiry was launched and on 6 January the restaurant was immediately closed down by Trading Standards and environmental hygiene officers.
It later reopened under new management.
The eight men and four women on the jury took about six hours of deliberations to reach their verdicts.
Members of Megan's family were in tears in the public gallery as the two men were found guilty.
In a statement read outside court, her parents Adam and Gemma Lee said: "Our lives will never be the same. The loss of our beautiful daughter has completely devastated us.
"Megan's positive presence and infectious smile will forever be missed.
"It breaks our hearts that Megan didn't get the chance to sit her GCSE exams, something she had worked so incredibly hard for, to celebrate her 16th birthday or go to the school prom with her friends.
"Megan didn't get the opportunity to fulfil her ambition of working in musical theatre, to explore the world, fall in love or have children of her own.
"It's these thoughts that cause great sadness, because nobody deserved it more than Megan."
Rashid, of Rudd Street, Haslingden, who had claimed he was merely a delivery driver at the restaurant at the time, was also found guilty of failing to discharge a general duty of employers, contrary to the Health and Safety at Work Act, and another count of failing to put in place, implement and maintain a permanent procedure or procedures in contravention of European Union food safety regulations.
Kuddus, of Belper Street, Blackburn, had already pleaded guilty to those two charges on behalf of himself and Royal Spice Takeaway Ltd.
The men made no comment as they were approached by media while leaving court.
'Tragedy waiting to happen'
Det Ch Insp Mark Vaughton of Lancashire Police, said there had been a "casual disregard for customer safety" that was "blatant and widespread" at the takeaway.
He added: "This was a tragedy waiting to happen, and one to which these defendants had given little or no thought.
"Tragic as the circumstances are, they are circumstances that could have been prevented. The working practices in the Royal Spice takeaway were such that it was only a matter of time.
"I can only imagine how difficult it has been for Megan's parents, brother, family and friends. My thoughts are with them and will continue to be."
Lancashire County Council deputy leader Albert Atkinson said: "I would like this to be a warning to all food businesses to make sure they do everything in their power to get food safety right."