MP Craig Mackinlay's expenses document 'forged', handwriting expert says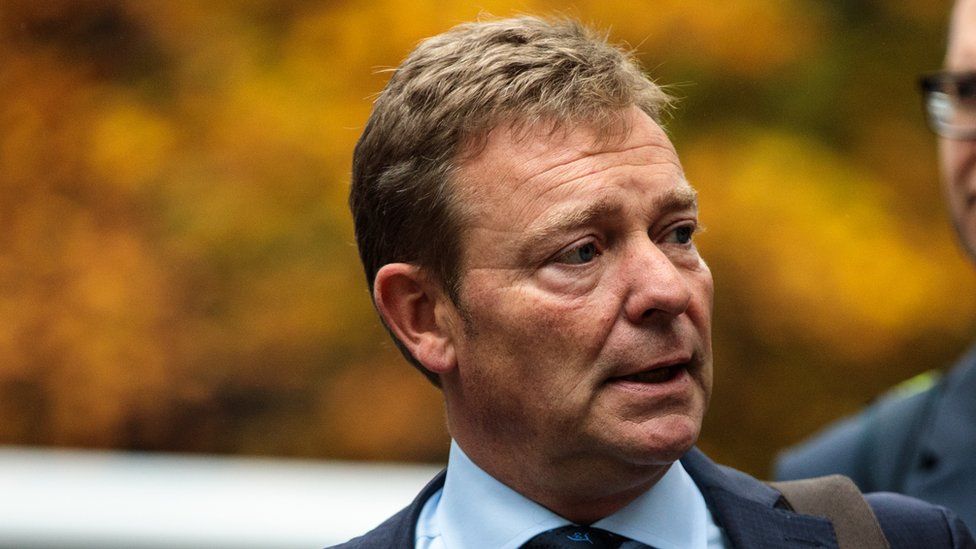 A Tory MP's expenses form for his general election battle was forged, a handwriting expert has told a court.
South Thanet MP Craig Mackinlay, 52, is on trial alongside his election agent Nathan Gray, and party activist Marion Little, accused of overspending during the 2015 general election.
Forensic scientist Oliver Thorne said Mr Gray's signature on the expenses declaration was an "imitation".
The culprit was not likely to be Mrs Little or Mr Mackinlay, he added.
'Significant differences'
Southwark Crown Court heard that as the election agent, Mr Gray was tasked with producing and signing the declaration and, to the untrained eye, his signature appeared on it.
However Mr Thorne said "significant differences" show the writing on the form was forged, as well as the signature.
Mr Mackinlay, an accountant by profession, was elected to Parliament on 7 May 2015 with a majority of about 2,800 from an electorate of 70,000.
Declared spending came in under the strict £52,000 limit. But jurors have been told his victory could have been made void if up to £66,000 of undeclared spending on staffing, accommodation and advertising was included on returns.
Mr Mackinlay, from Ramsgate, Kent, denies two charges of making a false election expenses declaration under the Representation of the People Act 1983.
Mr Gray, of Hawkhurst, Kent, denies one charge of making a false election expenses declaration and denies a further charge of using a false instrument under the Forgery and Counterfeiting Act 1981.
Mrs Little, of Ware, Hertfordshire, denies three counts of intentionally encouraging or assisting an offence under the Serious Crime Act 2007.
The defendants are all on bail and the trial continues and is expected to last until December.
Related Internet Links
The BBC is not responsible for the content of external sites.