Suzy Lamplugh: Police search Sutton Coldfield house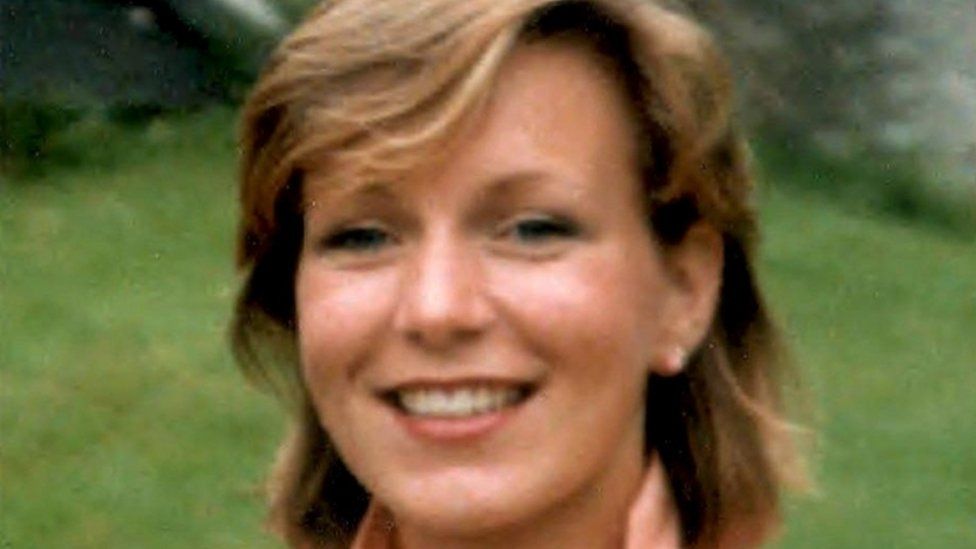 A garage linked to the murder of Suzy Lamplugh, who was last seen alive more than 30 years ago, is set to be dug up.
Estate agent Suzy, 25, from London, disappeared in July 1986 and was declared dead, presumed murdered, in 1994. A body has never been found.
Police are searching at a house in Sutton Coldfield, Birmingham, once owned by the mother of John Cannan - the prime suspect in Suzy's killing.
The Met Police refused to comment on "speculation surrounding the search".
However, it confirmed it was leading the operation, supported by officers from West Midlands Police.
Suzy's brother Richard said he hoped her body would be found so the family could say a "proper goodbye".
"It has been a long time and we have had our expectations raised before but it would nice if we could finally have some closure," he told the Mail Online.
Homeowner Phillip Carey, 52, said he bought the house on Shipton Road from John Cannan's mother Sheila 26 years ago and was aware of the back story.
"We knew who she was, we became aware who she was as we went through the relationship, and obviously it was high profile at the time."
He told the BBC police arrived on Monday and were investigating a garage behind the semi-detached home, which he used to store DIY items and an old fridge.
The iron structure had been dismantled and police were particularly interested in what was underneath its concrete floor, Mr Carey said.
The BBC understands work to remove parts of the concrete floor has begun.
Mr Carey said he believed there was a "50-50 chance" Suzy's remains would be found.
"It's a possibility," he said. "There's always a possibility."
Father-of-two Mr Carey said officers had previously performed searches at the property "on and off" from the end of 2003 to the spring of 2004.
"They knew what they were looking for. It was just patio they were looking at as far as I was aware," he said.
One of four children, Suzy was born in Cheltenham but grew up in East Sheen, south London.
Described by family and colleagues as a conscientious, outgoing and happy young woman, she worked as a beautician on the QE2 cruise liner before becoming an estate agent.
At the time of her disappearance, she had been living in a two-bedroom flat in Putney she had purchased a year earlier.
Her parents Diana and Paul, who have both since died, described her as someone who lived life to the full.
Speaking in 2016, Suzy's father recalled a conversation where his wife "was chiding her for doing too much" and Suzy said: "Come on mum life is for living".
While Suzy's body has never been found, what is known of her final movements has been well documented.
She disappeared on 28 July 1986, after going to meet a client - known only as Mr Kipper - who was never traced.
Suzy took her keys and a purse containing £15 to the appointment in Fulham, south west London, but left her handbag at her office.
According to police, she was wearing a grey skirt, dark jacket and low stiletto heels when she was last seen.
Later that day, witnesses reported seeing her arguing with a man outside a property in Shorrolds Road.
When she failed to attend another appointment, her manager at Sturgis estate agents reported Suzy missing the same evening.
A few hours later, police found her company car outside a property for sale in Stevenage Road, one-and-a-half miles away from her original appointment.
The white Ford Fiesta had been left with its doors open and Suzy's purse in the door pocket. The key was missing.
Investigations also traced the address given by Mr Kipper - and found no-one of that name.
No-one has ever been charged in connection with Suzy's disappearance, but in 2002 police named convicted killer Cannan as the only suspect.
Three days before Suzy's disappearance, John Cannan was released from Wormwood Scrubs Prison, where he had been serving a six-year sentence for rape.
He bore a strong resemblance to an e-fit of the abductor and, according to reports, was nicknamed Kipper while serving his earlier sentence.
Now aged 64, in 1989 he was jailed for life for the abduction and murder of Bristol newlywed Shirley Banks and two further rapes.
Cannan was ordered to serve a minimum of 35 years in prison, meaning he would be eligible to be considered for parole from 2024.
But the then Lord Chief Justice, Lord Lane, said he would "probably never be safe to release".
In November 2002, police took the unusual step of naming Cannan as the prime suspect in Suzy's murder.
However, no prosecution has ever been brought, with police citing insufficient evidence.
Why is there a new search?
Jim Dickie, a former Met Police deputy chief inspector, who led a review of the case in 2000, told the BBC's Victoria Derbyshire programme police were likely acting on new evidence.
"It seems as if the [operation] is going to be quite extensive," he said.
Mr Dickie said his team spoke to John Cannan's mother during their review but did not carry out an "extensive search" of the site.
There was "no evidence" Cannan had "secreted Suzy's body there", he said.
However, Mr Dickie said Cannan remained "firmly in the frame as a suspect", and was "never eliminated".
He said there was "no doubt [Cannan] was in Fulham on the day Suzy went missing".
The case was reopened in 2000 after a car police believed might have been used to kidnap Suzy was traced.
Two sites in Worcestershire - a former Army barracks and a field outside the village of Drakes Broughton - and a woodland in the Quantock Hills, Somerset, have also been searched.
Suzy's mother Diana, who died in 2011, set up the Suzy Lamplugh Trust four months after her daughter disappeared.
The workplace safety charity has successfully campaigned for private hire vehicle licensing in London, bringing about the Protection from Harassment Act 1997 which tackled stalking, and setting up the National Stalking Helpline.
In 2016, Suzy's father said he had little hope left of finding out what happened to her.
In a statement issued on Tuesday morning, the trust said: "Today's news reminds us once again of the continuing tragedy of Suzy's story and the importance of employers taking responsibility for the personal safety of their staff."
Related Internet Links
The BBC is not responsible for the content of external sites.