Epilepsy families angry at lack of access to medicinal cannabis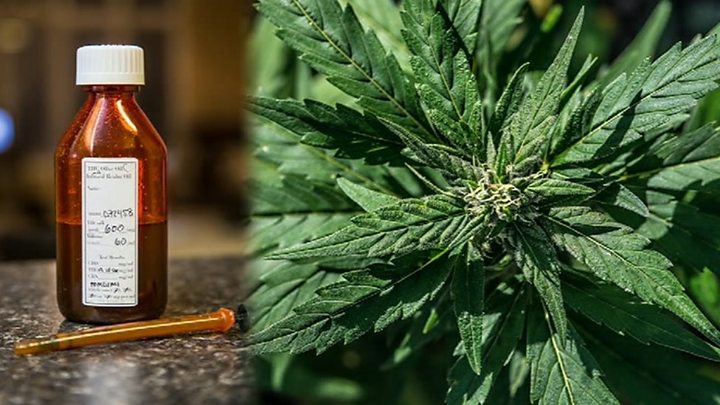 Families of children with epilepsy say they are devastated after being denied prescriptions for medicinal cannabis.
A law change on 1 November was designed to allow a small number of patients to be prescribed cannabis-based products by specialist doctors in the UK.
The United Patients Alliance (UPA) said the new prescribing rules were unclear.
NHS England said patients with an unmet need, where there was evidence they would benefit, could be given a prescription.
People who suffer from conditions such as epilepsy and multiple sclerosis have long claimed that cannabis-based products can help manage their conditions.
Two families of children with epilepsy spoke of their distress at being refused prescriptions.
The parents of 10-year-old Harry from North Yorkshire said they had been buying £300 bottles non-medical, low-strength cannabis oil, to ease his potentially fatal epileptic seizures.
"Harry was having every type of seizure imaginable" said his mother Helena.
"Every night he would have a fit, sometimes one every hour. It felt like we were watching our son die before our eyes."
Harry's parents said he'd been prescribed a range of licensed medicines to treat his epilepsy but none had proved effective.
"We used to have to spend every waking moment with him just in case he had a seizure" said Harry's father Rob, "but since we gave him the cannabis oil it feels like we're starting to get our son back."
Harry's parents were delighted by the law change and hoped their son would be given stronger medicinal cannabis products by the NHS, that would further improve his condition.
"We booked an appointment for 1 November, ready for the big day, but a couple of weeks before, we were told Harry wouldn't get a prescription because doctors said there wouldn't be a clear set of rules about how to prescribe the products" said Helena.
"Hearing the news I could feel my body being crushed - we were devastated and angry. At the moment this law change is practically meaningless."
Prescribing guidelines
Emma Appleby's nine-year-old daughter Teagan has been in hospital for several weeks because of a series of epileptic seizures.
Tegan's doctors reviewed the new guidelines and told Emma her daughter would not qualify for medicinal cannabis.
"I'm absolutely gutted knowing that there's a product out there that can help her.
"And watching my daughter suffer every day is horrible, especially when I was told that she'd qualify for a prescription" said Ms Appleby.
Doctors were issued with prescribing guidelines for this new class of medicine by NHS England on 31 October, the day before the law change took affect.
Campaign groups welcomed the government's decision to allow medicinal cannabis products to be prescribed.
However, they warned the current rules were unclear.
"We estimate that over a million people in the UK currently use cannabis medicinally" said Jon Liebling from United Patients Alliance.
"We expect the majority of those users to ask their doctor about getting a prescription, but at the moment there are huge gaps in the process, which will create confusion."
Only specialist doctors will be allowed to prescribe medicinal cannabis.
One of those is Prof Hannah Cock, from St George's Hospital who specialises in epilepsy treatment.
"I have around 2,000 people currently on my list, but I would only consider prescribing medicinal products for a handful of my patients where I've run out of options.
"These cannabis products are not the miracle drugs that some people make them out to be," she said.
Psychiatrist Michael Bloomfield, of University College London, said there needed to be more scientific evidence gathered about the effects of medicinal cannabis.
"It's really important that doctors don't cause harm to their patients, and we know that cannabis products can have side effects.
"So that is why its right that there is this slow and gradual prescribing process".
Speaking in October about the planned law change, Home Secretary Sajid Javid said "My intention was always to ensure that patients have access to the most appropriate course of medical treatment."