Sorting out the Budget tricks from Budget treats
Patrick Burns
Political editor, Midlands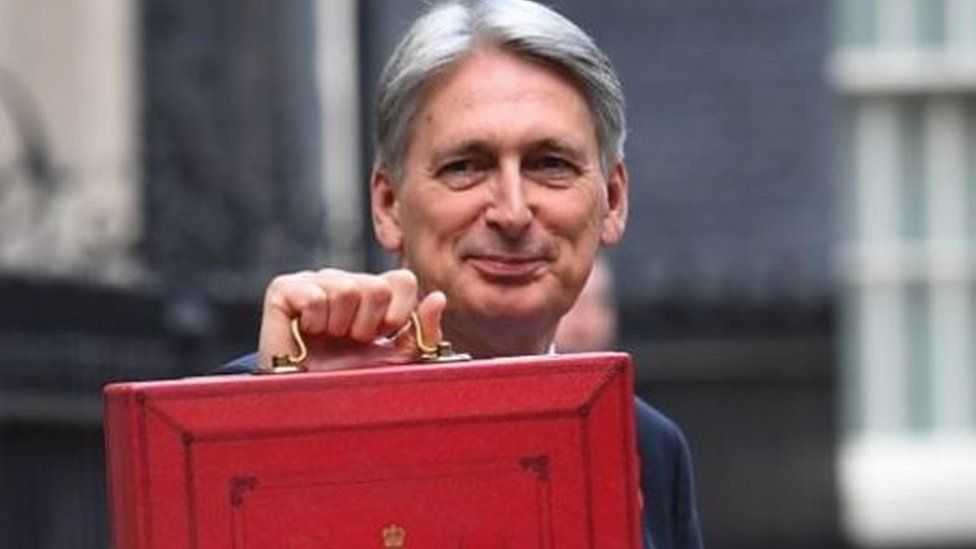 Forget 'Spreadsheet Phil', meet 'Feelgood Phil'
That's how some sections of the Conservative-supporting press have hailed Mr Hammond's Budget, the first to be presented on a Monday for more than 50 years.
It also broke new ground in a more significant respect. For the past eight years, the chancellor and his predecessor George Osborne have emerged from the door of 11 Downing Street with that red case groaning with the weight of deficit reduction measures which were to become lumped together, by instalments, under the general heading of austerity.
In the event, he didn't go quite as far as Theresa May had done in her closing speech to the Conservative Party Conference in Birmingham when she announced austerity was over.
He confined himself to the distinctly less categorical observation that the end of it was "in sight". But his message was clear enough: we are now beginning a phased return to something more like normality, with increasing investment in public services, even if this does mean the eradication of the deficit is no longer a top priority.
Could he perhaps be setting up the option of a snap general election if it turns out to be the only way out of a Brexit impasse? Unlikely, I would have thought, but we'll know soon enough.
But it was to Mrs May, not Mr Hammond, that Jeremy Corbyn addressed his remarks when he began what's generally regarded as the most difficult speech in the Commons calendar - the Opposition's Budget response.
"How can you say austerity is over when this many retail jobs are being lost?" Mr Corbyn asked.
Just five days earlier, Andy Street, the Conservative Metro Mayor of the West Midlands and former boss of John Lewis, had been in Walsall hoping his Midas touch might reverse the decline of five Black Country and Birmingham high streets.
Now Mr Hammond is promising a share of a £650m town regeneration fund, as well as a 50% cut in the business rates paid by smaller firms in what he calls "our gap tooth high streets". He calculates it will save £8,000 for 90% of independent pubs, shops and cafes.
And the so-called "Amazon Tax", the UK digital services tax, to be imposed on the tech giants, may also nudge at least some of those online shoppers back in the direction of the high street.
The Hallowe'en week commentary characterises it as a mixture of both.
Among the treats: a driverless shuttle bus between Birmingham's HS2 terminus at Curzon Street and New Street Station. It's part of £72m in transport investments.
Coventry's City of Culture build-up will benefit from £8.5m of improvements around the Belgrade Theatre and the city's cathedral.
The levy paid by local businesses taking on apprentices will be halved.
But the West Midlands police and crime commissioner, David Jamieson, isn't so happy. He had said the force needed an extra £17m just to cover inflation and the cost of nationally mandated pay increases.
All he got was an assurance that the Home Secretary and Bromsgrove MP Sajid Javid was promising a review of police funding in December. But no new money yet. I wonder if that review might propose the lifting of the cap on the police precept charged on top of council tax.
Also less than impressed are the head teachers contemplating cutting teaching jobs and reducing the school week in order to balance their books.
Mr Hammond's offer of a one-off bonus to help them buy what he calls "a bit of extra kit" adds up to less money than the £420m he is promising to patch-up the potholes.
To establish what the business community in Britain's manufacturing heartlands make of all this, I'll be joined in the Sunday Politics Midlands studio this weekend by Saqib Bhatti, who recently became president of the Greater Birmingham Chamber of Commerce.
Also with me will be the Conservative MP for Stoke South, Jack Brereton, and the Labour MP for Walsall South, Valerie Vaz; the shadow leader of the House of Commons.
And I hope you will join us too. Sunday Politics Midlands is at 11:00 GMT on BBC One on Sunday 4 November.