Mischief Night anti-social behaviour hits towns and cities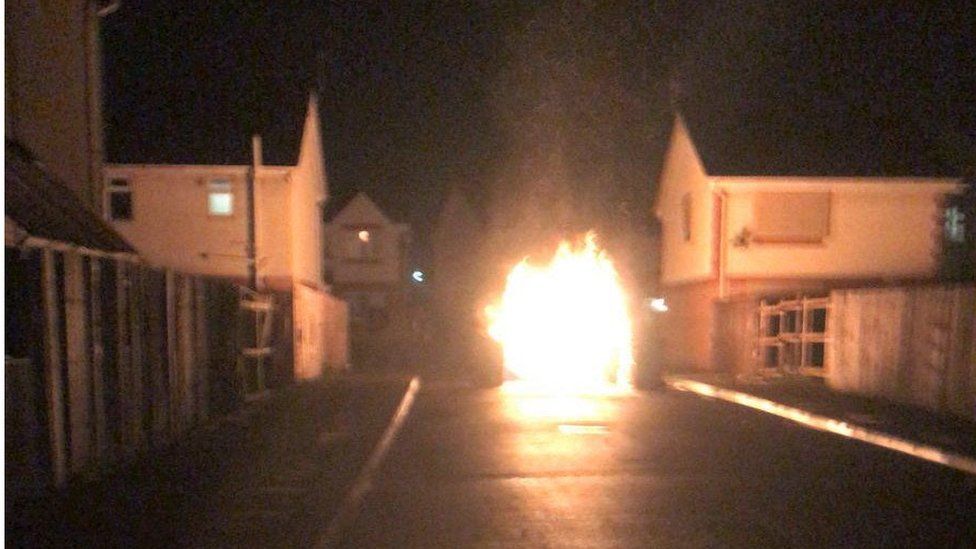 Mischief Night incidents including arson attacks have been seen in towns and cities across England.
Middlesbrough was described as the "Wild West" when a woman was hit by a brick on a bus, and Merseyside saw 12 arson attacks on Tuesday.
Bricks and fireworks were thrown at police officers and police horses in west Lancashire.
The Mischief Night tradition sees youths commit anti-social behaviour on the night before Halloween.
BBC reporter Adam Clarkson, who joined one of the patrols in Middlesbrough, said it was "like the Wild West".
A woman was taken to hospital after a bus window was smashed by a brick in Berwick Hills. In the Ormesby area of the city a group of about 10 youths ran in front of the police van and threw eggs.
Extra police were on duty across Teesside to tackle the traditionally busy night for anti-social behaviour with Cleveland Police doubling patrols in some areas.
The force said there had been a total of 137 incidents, and a number of teenagers were arrested, with the youngest being an 11-year-old boy on suspicion of a public order offence.
On Merseyside, Stagecoach stopped running some services through Kirkby because of vandalism and a woman was injured when a brick was thrown through the window of a bus in Fazakerley.
Police also dealt with incidents involving groups of youths in Skelmersdale, Ormskirk, and Tarleton, where fireworks were thrown at police horses.
Merseyside Fire Service said fires in wheelie-bins had "taken fire engines from other potential emergencies.
"Anti-social behaviour fires are unacceptable and put communities at risk," it added.
Mischief night is thought to date from the 1700s when a custom of Lawless Hours or Days prevailed in Britain.
Normal laws were suspended and tricks could be played ranging from throwing cabbage stalks at people, to the swapping of shopkeeper's signs and gates but in recent years it has become an excuse for vandalism and anti-social behaviour.
Related Internet Links
The BBC is not responsible for the content of external sites.