Bluefin tuna: Anglers launch campaign to catch fish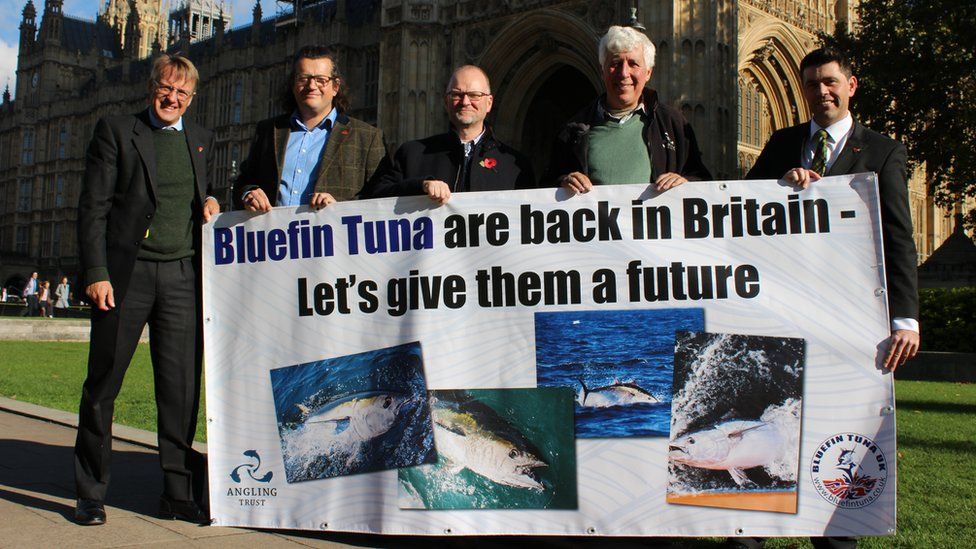 Campaigners have called on the UK government to allow amateur fishers to catch endangered Atlantic bluefin tuna.
They want to establish a "world-leading" catch-and-release fishery for amateur anglers, citing "recovering" stocks and potential economic benefits.
Such a fishery would need to be based on "rigorous" research, according to an environmental group.
Campaigners say in recent years tuna sightings have become more frequent, with the Angling Trust estimating "hundreds" being seen annually off the UK.
"It has been nothing short of fabulous to see these huge and iconic creatures aggregating off the Cornish coast in recent years," North Cornwall MP Scott Mann said.
"It would be a massive boost to our coastal communities if the government was to take up these proposals and allow local anglers to enjoy world class catch and release big game fishing right on our doorsteps."
Bluefin tuna were regularly fished in British waters but by the 1990s they had all but disappeared, due in part to overfishing of mackerel and herring - fish the tuna eat.
The catch-and-release campaigners want a "licensed" fishery which would control the number of vessels targeting the fish and reporting catches.
But environmental charity Greenpeace has suggested it is too early for anglers to fish the tuna, as just a few years ago the species was on the brink of collapse.
Any decision to allow catch-and-release fishing had to be based on "rigorous" research, the charity said in a recent statement.
A spokesperson from the Department for Environment, Food and Rural Affairs said: "We have a strong track record in championing sustainable fishing and it is important that quotas are always guided by the latest scientific evidence."