Tory MP Craig Mackinlay 'aware of election spending limits'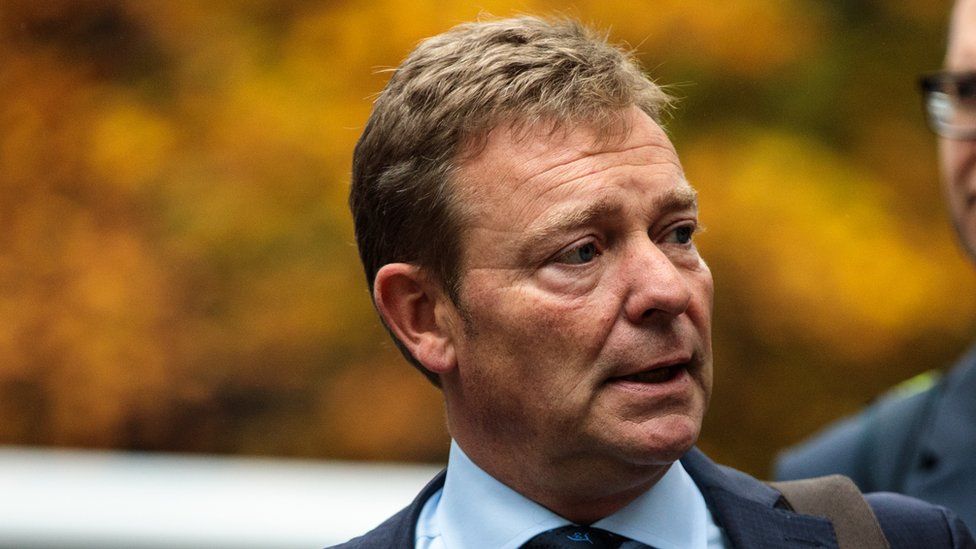 A Tory MP accused of knowingly making a false expenses declaration has said he was keen to stay within legal spending limits so as not to break election law.
Craig Mackinlay said of any Kent seats, his South Thanet one would be "looked at and poured over very carefully".
Southwark Crown Court heard he was told during the 2015 campaign that spending was "perilously close" to the limit.
He denied having any involvement in budgeting, payments or deciding how money should be spent.
Richard Pratt QC, for the defence, quoted a Conservative email stating there was a "real prospect of a legal challenge from Mr [Nigel] Farage if you make the slightest slip-up".
Giving evidence for a second day, the 52-year-old MP said he felt assured his colleagues would not breach the spending limits.
"Absolutely, at all times it should be legally compliant. Of any seat in the county, this would be the one looked at and poured over very carefully," he said.
The accountant by trade denied signing any declarations knowing they were false as "an impossibility" and said he was unaware of the additional costs not included on expenditure returns.
He told the court he had little control over spending, and described the "battle bus" of volunteers as a "total waste of time".
"I was just a small cog in a big gearbox," he said.
Mr Pratt asked Mr Mackinlay how he felt about party worker Marion Little, also a defendant in the trial, arriving in South Thanet.
He said her arrival was a "bolt out of the blue" and he "had no choice in the matter".
It was "one of those things that is done to you by headquarters", jurors were told.
Mr Mackinlay, his election agent Nathan Gray and party activist Ms Little deny involvement in false spending returns during the 2015 campaign.
The MP, from Ramsgate, Kent, denies two charges of making a false election expenses declaration under the Representation of the People Act 1983.
Ms Little, of Ware, Hertfordshire, denies three counts of intentionally encouraging or assisting an offence under the Serious Crime Act 2007.
Mr Gray, of Hawkhurst, Kent, denies one charge of making a false election expenses declaration.
Judge Mr Justice Edis has ordered jurors to acquit Mr Gray of a charge of forgery.
Related Internet Links
The BBC is not responsible for the content of external sites.