Tory MP Anna Soubry 'interviewed over election expenses'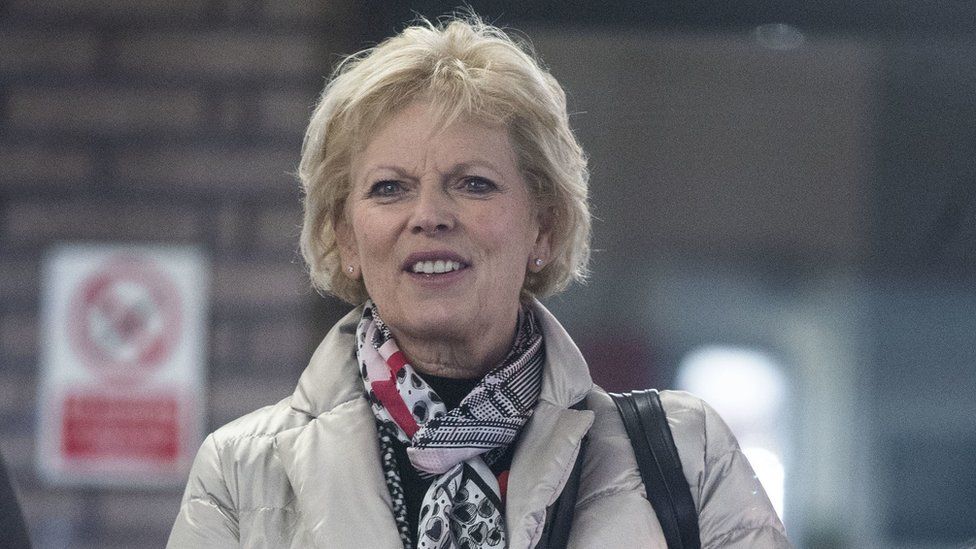 Ex-minister Anna Soubry was interviewed under caution over expenses in relation to the Conservative Party's campaign "battle bus", a court heard.
Ms Soubry gave evidence at Southwark Crown Court where Tory MP Craig Mackinlay is on trial accused of overspending on expenses during the 2015 general election.
Mr Mackinlay won the South Thanet seat in Kent over Nigel Farage.
Earlier in his trial, Mr Mackinlay criticised the use of the battle bus.
MP for Broxtowe, Ms Soubry, said she was disclosing for the first time that she had once been questioned about "fiddling" expenses in relation to the bus visiting her constituency.
"I found that extremely, extremely difficult," she told the court.
"If my electorate had heard that... everyone says, 'no smoke without fire'."
When it was put to her by David McLachlan QC that nothing came of it, she said "nothing whatsoever".
"And rightly so, because we hadn't done anything wrong," she added.
The bus was "of no assistance whatsoever" and was even "a nuisance", she told the court.
She said she was advised to just allow the "battle bus" to come to the constituency as it would "shut them up", and explained that "them" was Conservative HQ.
Previously at his trial, Mr Mackinlay criticised Conservative "battle bus" volunteers who campaigned during his election fight for being a "complete waste of time" and selfishly motivated.
Mr Mackinlay, who was giving evidence for a third day, and denied he played "fast and loose" with election spending rules.
Prosecutor Aftab Jafferjee QC asked the MP whether he was "in a state of considerable ignorance" about the financial aspects of his campaign, to which he replied "yes".
Mr Jafferjee suggested that was not the case, and that Mr Mackinlay kept a "close watch" of what was going on in relation to that side of things.
"That's not true," Mr Mackinlay said.
The MP, from Ramsgate, Kent, denies two charges of making a false election expenses declaration under the Representation of the People Act 1983.
Ms Little, of Ware, Hertfordshire, denies three counts of intentionally encouraging or assisting an offence under the Serious Crime Act 2007.
Mr Gray, of Hawkhurst, Kent, denies one charge of making a false election expenses declaration.
Judge Mr Justice Edis has ordered jurors to acquit Mr Gray of a charge of forgery.
Related Internet Links
The BBC is not responsible for the content of external sites.