Abuse accused denies using Manchester United connections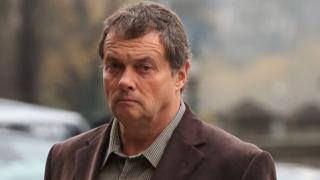 A man accused of using his connections with Manchester United to groom boys did not sexually assault children in his care, a court heard.
Bruce McLean, 62, is accused of child sex offences against eight boys while working at children's homes in Derbyshire and Knutsford, Cheshire.
The court heard he would take children to United's training sessions at The Cliff ground.
On Wednesday, Mr McLean told Chester Crown Court the abuse had not happened.
He denies 33 offences against boys, aged seven to 14, between 1974 and 1991 in homes Taxal Edge in Whaley Bridge and Kilrie in Knutsford.
Mr McLean told the court he not recall any of the complainants and repeatedly answered "no, I did not" when allegations of abuse were put to him by Michael Hayton QC, defending.
'Money an element'
He said United's then goalkeeper, Gary Bailey, had come up with the idea to visit the home, along with other footballers, as a way to stop the children getting bullied at school.
He said: "All the kids at Kilrie were inviting their schoolmates and all of a sudden they've got friends. It worked and it worked really well."
When asked by Anne Whyte QC, prosecuting, if he knew trips to Manchester United would be "thrilling" for the children, he agreed, but said other members of staff at the home would also take them.
Ms Whyte said: "You, in particular, designed these trips in order to gratify children?"
He replied: "Not at all."
Asked why he thought eight men had made allegations against him, Mr McLean said: "I believe money may be an element.
"As to speculating as to why people are saying what they're saying, claiming what they're claiming and giving from this witness box what they are giving, I really can't do that," he said.
The court heard he was convicted of 10 counts of indecent assault in 1997 following an investigation into Kilrie, but has maintained his innocence and denied ever being attracted to children.
Mr McLean, of Moore, Cheshire, is charged with indecent assault, buggery and attempted buggery.
The trial continues.