Sexting MP Andrew Griffiths disciplinary action dropped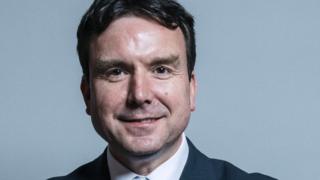 A Conservative MP who sent sexual messages to two barmaids will face no further action, the party has said.
Andrew Griffiths resigned as small business minister in July after lewd messages sent to the women were published in a newspaper.
A party investigation found he may have breached the Conservatives' code of conduct.
But, "given his state of mental health both now and at the time", it concluded further action would be inappropriate.
The party whip remains withdrawn.
The 47-year-old married MP for Burton and Uttoxeter had been following the two women from his constituency on Snapchat for six months before making contact in June.
He subsequently referred himself for investigation by the Conservative Party's independent code of conduct panel after the contents of the messages were published in the Sunday Mirror.
Latest news and updates from the West Midlands
He reportedly sent them more than 2,000 messages in three weeks.
At the time, Mr Griffiths, who became a father earlier this year, apologised for the "deep embarrassment" caused to the prime minister and the government.
In August, protestors gathered in Burton upon Trent calling on him to stand down as an MP.
In a statement on Thursday, East Staffordshire Conservatives said its prospective parliamentary candidate selection process had been suspended by Conservative party officials, but would be reviewed in the new year.
A House of Commons investigation is still ongoing.
'Recovery phase'
Conor Wileman, chairman of East Staffordshire Conservatives, said Mr Griffiths' health status was being taken "extremely seriously" while he continued to seek treatment.
"We are therefore in an incredibly difficult position because whilst we want to get on with our selection process as soon as possible, when the evidence suggests someone is unwell, we also have a moral duty to ensure that such a process is sympathetic to that person's recovery."
Mr Wileman said a request had been made to ask a neighbouring MP to assist Mr Griffiths, "just as would happen with an MP suffering from a physical medical condition".
"Members made it absolutely clear that they wished to see support offered to Andrew, to help him through this recovery phase, but also to answer the valid criticism that the constituency has had a reduced level of representation and may continue to do so."
He added members "will have the final say" on whether they believe Mr Griffiths should continue to be their parliamentary candidate for the general election or who else that would be.
A Conservative Party spokesperson said a panel chaired by an independent QC concluded that the MP's conduct was a potential breach of the party's code but taking further action would be inappropriate given his health.